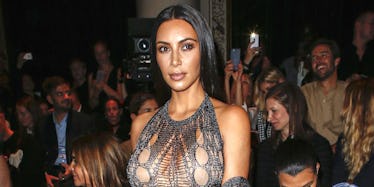 Police Found Kim K's Stolen Diamond Cross And It Could Lead Them To Robbers
REX/Shutterstock
A diamond cross belonging to Kim Kardashian has reportedly been recovered from the Paris robbery.
The armed thieves who made off with the Jacob and Co jewelry piece dropped it as they dashed away from the No Address Hotel after tying Kim up and locking her in the bathroom, according to TMZ.
Sources told the website it was found on a sidewalk just yards away from the scene of the crime.
It is believed to be worth more than $30,000.
Over the coming days, investigators will be running a series of DNA tests in a bid to link any possible prints to the robbers.
Meanwhile, Kim has seriously upped her security.
The reality star and husband Kanye West have reportedly taken their security to "presidential levels" and even hired their own team of intelligence experts to track down those responsible for the terrifying gunpoint robbery.
A source told DailyMail.com,
[Kim and Kanye] decided to use their own experts as part of their ­security overhaul. Some of them have worked for the world's top ­intelligence agencies. If ­anyone can get to the bottom of what went on, these guys will.
The reality star is so shaken by the incident she's reportedly rethinking everything, including how she dresses.
A source told PEOPLE she regrets flaunting her huge ring on Instagram and Snapchat and won't let Kanye West buy her another.
The source said,
Kim's in shock and blaming herself. She's tearing herself up that she Snapchatted the ring so much and wore it all the time. This incident is making her question everything. How she dresses, what she does. Kanye wants to buy her the ring again but she just says she doesn't want to think about it. He says he wants everything to go back to normal and for the incident to not affect their lives.
It comes after fashion icon Karl Lagerfeld said Kim should have stayed in a hotel with better security if she's going to flaunt all her jewelry online.