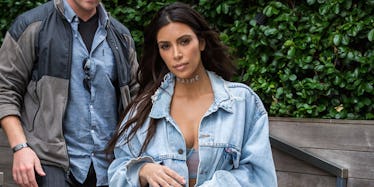 Kim Kardashian Has As Much Security As President Obama After Armed Robbery
Shutterstock
If being a woman in the world today means vigilant pussy-guarding and one eternal, painful eye roll in reply to the entitled, often violent comments and behavior of small men, then being a famous woman is all that AND presidential-grade security. FUN!
Following a month of inhumane violation, including the ass-kissing antics of "prankster" Vitalii Sediuk and a break-in that resulted in a robbery at gunpoint, Kim Kardashian West is beefing up her security with an armored car and bodyguards with CIA and Israeli army training, Mail Online reports.
Kim and husband Kanye West recently employed armed ex-special service agents to protect the reality star and her children.
The Paris security breach, in which five thieves impersonating law enforcement robbed Kimmy of $10 million worth of material possessions and shattered her sense of safety, led to a major reassessment of the 35-year-old's existing security team.
A source told the site,
[Kim and Kanye] decided to use their own experts as part of their ­security overhaul. Some of them have worked for the world's top ­intelligence agencies. If ­anyone can get to the bottom of what went on, these guys will.
Kim's bodyguard, Pascal Duvier, was allegedly off escorting sisters Kourtney Kardashian and Kendall Jenner to a nightclub when the attack took place at the Hotel Particulier Pourtales, though he remains employed by the family.
An inability to humanize over-exposed celebrities is not a new phenomenon, but Kim's recent experiences are a reminder she is a real person who -- despite her family's expert approach at capitalizing on their personal lives -- is not the property of fans and critics.
With luck, the extreme measures taken by Kim and Kanye to ensure the safety of themselves and their children, North, 3, and Saint, 10 months, will prevent future attempts to interfere with the family's wellbeing.
Citations: Kim Kardashian calls in ex-special service agents as she ramps up her security to 'presidential levels' after her terrifying robbery ordeal Read more: http://www.dailymail.co.uk/news/article-3830469/Kim-Kardashian-ramps-security-presidential-levels.html#ixzz4MhEykYTQ Follow us: @MailOnline on Twitter | DailyMail on Facebook (Daily Mail)