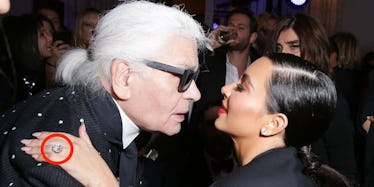 Fashion Icon Blames Kim Kardashian For 'Flaunting Her Wealth' After Robbery
REX/Shutterstock
Fashion icon Karl Lagerfeld says Kim Kardashian should have stayed in a hotel with better security if she's going to flaunt all her jewelry on Instagram and Snapchat.
The Chanel and Fendi top dawg was talking to reporters at Paris Fashion Week when he made the comments in the wake of Kim's terrifying ordeal.
He told Reuters,
It's a very bad thing for Paris. But I don't understand why she was in a hotel with no security and think like this. If you're that famous and you put all your jewelry on the net, you go to hotels where nobody can come near to the room.
He added, "You cannot display your wealth and then be surprised that some people want to share it with you," according to Daily Mail.
No arrests have yet to be made in connection with the raid at the No Address Hotel -- real name l'Hotel de Pourtalès -- in the city's 8th district.
The men allegedly made off with two phones, a $4 million ring and a $6 million bag of jewels.
Kim had previously flaunted her massive ring on Snapchat.
At the time, Kim's spokesperson, Ian Treciokas, made this statement:
Kim Kardashian West was held up at gunpoint inside her Paris hotel room this evening, by two armed masked men dressed as police officers. She is badly shaken but physically unharmed.
However, Kim and the entire Kardashian clan has been tight-lipped since the attack.
Neither Kim nor her sisters have publicly addressed the incident on any of their social media accounts.
Meanwhile, a huge question mark hangs over who opened the door to Kim's apartment.
Detectives working on the case are stumped because there is no physical damage to the door, meaning it would have had to have been unlocked either by someone with keys or Kim herself.