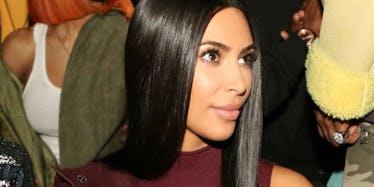 Kim Kardashian Shares Botched Photoshop Of Her Butt To Troll 'Haters'
REX/Shutterstock
Kim Kardashian West's return to social media was gradual, but she's finally back in full force. And this time, she's got jokes.
The "Keeping Up With The Kardashians" star shared a warped photo of her body on Snapchat with the caption, "Haters will say it's photoshopped."
The picture cinches Kimmy's waist to nearly nothing and maintains her curves for a funhouse mirror effect.
Kim having a little lighthearted fun at her own expense is reassuring for fans to witness leading up to the March 12 premiere of season 13 of "Keeping Up With The Kardashians."
The season's second episode features the fallout from Kim's armed robbery in Paris last October, inspiring her temporary social media hiatus.
During a visit to "The Ellen Degeneres Show" in February, Kim's mother, Kris Jenner, told the daytime host how difficult footage from this episode was for the family to watch.
She said,
We started seeing some of the stuff that had come out of those [filming] days. Nobody can even get through the first five minutes without being hysterical. I get choked up just thinking and talking about it… I was watching and just bawling when I saw it. I couldn't even watch the whole thing, it was so upsetting. It was such an upsetting time, and something so awful to happen to somebody that you love so much… It chokes me up every time I think about it.
Painful as it was to see, Kris maintains the season is "riveting…" so check it out? And cry? Maybe? Or just skip it and get obsessed with Kim's new, dynamic social media presence.
When absolutely all seems lost, feast your eyes on the delicious little ham that is baby Saint West.
Like, are you freaking kidding? Look at those wrist rolls.
Kim Kardashian West: 2017's unlikeliest momedian.
Citations: Kim Kardashian Trolls the Internet With Warped Butt Photo: "Haters Will Say It's Photoshopped" (E!)