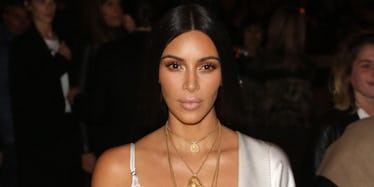 Kim Kardashian Believed Paris Robbers Were 'Terrorists' Kidnapping Her
REX/Shutterstock
Court documents revealing Kim Kardashian's testimony regarding the robbery in Paris last year have finally surfaced.
The transcript describes exactly what was going through the 36-year-old star's mind during the traumatic moment a group of armed assailants robbed her at gunpoint before fleeing with jewelry worth millions of dollars.
French news publication Le Monde released the transcript from Kim's February 2 meeting with a judge and her attorneys. The document states Kim actually thought "terrorists" were kidnapping her at first.
On top of that, the reality TV star also mentioned she had been worried about visiting the French capital back in October of last year due to her fear of a terrorist attack.
Kim began by speaking of her premonition, saying,
For two weeks before we left, we were already afraid we might be victims of a terrorist attack if we left the country, and not only by going to Paris. When Kourtney [Kardashian] had a passport problem, I thought to myself that something bad was going to happen. I had this foreboding. I want to tell you this because it was such a strong feeling: every night in Paris I said a prayer of thanks that nothing had happened to us.
The star went on to talk about how she felt an awkward, strange vibe from Gary Madar and his brother Michael.
They allegedly both worked for a limousine company hired to drive Kim around in Paris.
Even today, Kim believes the two brothers may have been responsible for an "inside job" leading to the robbery.
A few weeks before our arrival, they sent an SMS text message to my assistant, Stephanie [Sheppard], offering a free transport service, which they had never done before. I found that strange.
Both of the brothers were arrested by law enforcement. Only Gary was charged with tipping off the robbers about Kim's schedule.
The 36-year-old mother-of-two then described the moment she heard unusual noises while she was in her room at the lavish No Address Hotel. Eerie photos from the crime scene show how isolated Kim really was.
She first thought the noise was caused by her drunk sister and personal assistant.
I thought that my sister and Stephanie had come home drunk and were making a racket. I said, 'Hello.' I still thought it was them, but there was no reply. I understood that there was something wrong.
Seconds later, Kim says she saw "two guys in police uniform" who she thought were terrorists attempting to "kidnap" her.
They were aggressive… I thought they were terrorists who had come to kidnap me. I remember that I had an indescribable feeling as if my heart would leave my body. I thought I was going to die.
She also thought she was going to be raped.
Not to mention, the conversation she had with the concierge forced to bring the men to her location wasn't the least bit calming.
He said he didn't know what was going to happen to us and that he also had children and that I should stop talking. I was convinced [the attacker] was going to rape me.
These days, Kim Kardashian is certain that there was a large "group" following her whereabouts throughout her trip during Paris Fashion Week last year.
During a preview of a scene from "Keeping with the Kardashians," Kim reveals,
What I think happened now, after thinking about it so much, is that there was probably a group of guys that were following us the entire trip. I was Snapchatting that I was home and that everyone was going out, so I think they knew [my bodyguard] Pascal was out with Kourtney and I was by myself.
Well, that would explain why 17 suspects were arrested by French authorities. That also explains why Kim has toned down her frequent posting on social media since the robbery.
Citations: Kim Kardashian Testifies on Paris Robbery: 'I Thought They Were Terrorists Who Had Come to Kidnap Me' (Us Magazine)