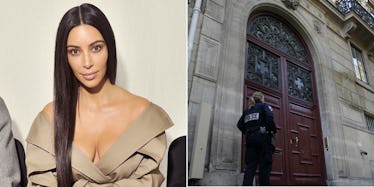 Kim K's Paris Concierge Says He Knew Hotel Wasn't Safe: 'Nothing Was Locked'
Rex by Shutterstock/ REUTERS
Ever since Kim Kardashian was tied up and held at gunpoint earlier this month, there has been debate as to whether or not the concierge of the luxurious Parisian hotel was an insider to the robbery.
At first, it made a lot of sense -- he was the only guard on duty during the break-in.
He was then handcuffed, held at gunpoint and taken up a private elevator where the gang was able to enter Kim's bedroom and use him as an interpreter, according to MailOnline.
But now "he" is speaking out, and he goes by the name of Abdulrahman.
Abdulrahman, 39, blames Kim's armed robbery on the hotel's lack of effective security.
In an exclusive interview with MailOnline, he confessed Hôtel de Pourtalès posed danger to its guests because it lacked CCTV cameras of any sort.
He stated,
There was no real security at all. It's a choice. The hotel doesn't mind about security. We told them years and years before, you have to make a camera, you have to put [in place] a security process, about keys. Nothing was locked, there was no proper security there.
Apparently, the lack of security cameras was to ensure high-profile celebrities and clients wouldn't be filmed coming in and out of the building.
The only camera that was installed inside of the hotel didn't even work. He said,
There is a camera in the main wall of the hotel, behind the big red [front] doors, but it didn't work for years.
To make matters even worse, Abdulrahman disclosed Kim's hotel room didn't even have a bolt lock, which should have been a red flag immediately.
The topper, though, is the hotel's front door code has apparently not been changed in six years.
To test the hotel's security firsthand, MailOnline tried the door out for themselves.
Guess what? They reportedly got in without a sweat.
MailOnline used the key code that hadn't been changed -- even after Kim's robbery -- to enter the building.
The only "security" inside were a male security guard and a female concierge, MailOnline reports.
Um, you'd think they'd step their game up, right? C'mon, guys.
Abdulrahman remains adamant the hotel is to blame for Kardashian's scare, stating,
I told them, look what you did! What I told you for six years? Security cameras and other things are meant for days like today, to prevent these things from happening. If you have good guards, electronic systems to lock the doors, it can be possible to secure the hotel. One day, someone might be killed. That is more important than a robbery of rocks and metal.
Hey, he's right. Without a CCTV, you're asking for trouble.
Citations: WORLD EXCLUSIVE - Security scandal at Kim robbery hotel: 'Concierge' held at gunpoint reveals shocking failures he warned of SIX YEARS ago... and the Mail finds that security code STILL hasn't been changed (MailOnline)