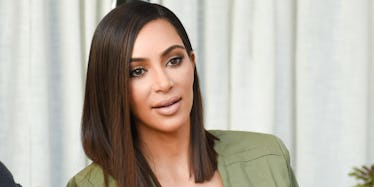 Kim K Releases Vicious Letter Calling Out Reporter Who Said Robbery Was Fake
REX/Shutterstock
Kim Kardashian's lawyers are firing back at a journalist who claimed the robbery she experienced was just "a publicity stunt."
According to TMZ, a contributor for The Huffington Post named Sharika Soal published an article with a fake quote from Kim saying the incident was a "publicity stunt gone horribly wrong."
After looking into the story, Kim's lawyers found the journalist took the quote from a satirical website poking fun at the case.
Since hearing the news, the Huffington Post blocked the user's account so the writer is unable to follow Kim's request and post an apology on the site.
The lawyers released a legal letter detailing what really happened to Kim Kardashian the night she was held up at gunpoint:
The robbery, however, was real, and our client was a victim of a horrifying crime. While Ms. Kardashian West's sister and body guard were out, armed assailants forced their way into the four-bedroom multi-level unit where my client was staying. With a gun to his head, they forced a handcuffed concierge to open the door to the level of my client's unit. The armed men then put a gun to my client, forced her into a bathroom and onto the floor, bound her arms and legs, and demanded her money and jewelry. Both my client and the concierge, who were temporarily held at gun-point together, believed they might be killed at any moment. The armed assailants also duct-taped my client's mouth, and emptied my client's jewelry box and possessions into their backpack, and fled. The robbery was not a hoax nor publicity stunt. For you to attempt to twist those horrible and traumatic events of the Paris robbery into a narrative concerning a publicity stunt and purported felony conduct by my client is not only perverse and highly offensive to my client (and to any reasonable person), but actionable.
Huffpo told TMZ they aren't involved in what happened because Soal self-published the story. Editors removed it from the site once they saw the story violated terms.
If Soal needs more evidence to know the robbery was real, footage was captured of the men escaping Kim's apartment. 
The clip is blurry, but viewers can still clearly see one of the men holding a backpack as he rides away on a bike.
Since the terrifying attack, Kim Kardashian has stayed off social media and out of the public eye. Once she arrived back to the states, she was spotted leaving New York City for the first time and looked almost unrecognizable. 
The mother of two was wearing a white sweatshirt and holding North West as she hopped into a black Escalade outside her apartment.
Today is Kim Kardashian's 36th birthday, so fans are eager to see if she breaks her silence on the robbery.
Hopefully, the presence of friends and family brings the star joy and comfort on her special day.
Citations: Kim Kardashian Lawyer Letter (TMZ)