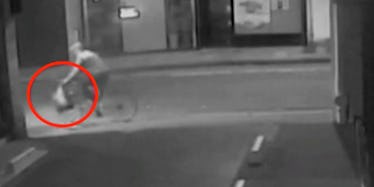 New Footage Of Robbers Fleeing Kim Kardashian's Hotel May Give Cops Answers
CCTV
New footage has surfaced of Kim Kardashian's attackers escaping from her Paris hotel room the night she was robbed.
The 35-year-old reality star was held up at gunpoint, bound and gagged in the bathroom and forced to plead for her life.
On Wednesday, TMZ shared a video taken from the street cameras capturing three of the men on bicycles and two on foot.
The video, which was first released on France's M6 News, may give police answers to what really happened that night.
The first part of the video shows the men heading to Kim's apartment around 2:19 am.
According to the footage, the robbers left her place approximately 49 minutes later. Toward the end of the clip, you can clearly see one of the men on bikes holding a backpack.
The shot is blurry, but viewers are still able to clearly make out what the suspect was holding.
As TMZ mentions, police still do not have leads on who the men are, but perhaps this video footage will get them one step closer to solving the case.
Kim Kardashian has not yet commented about the robbery on social media. The mother of two has kept a low profile since the incident, canceling public appearances and skipping out on family parties.
Kim was spotted for the first time since the robbery a couple weeks ago and looked almost unrecognizable.
The star left her New York City apartment wearing a hooded, white sweatshirt. The footage below shows Kim holding North West in her arms and walking toward a black Escalade outside the building.
Kanye West joined his wife, carrying their son Saint.
A source gave an update on Kim's status to E! News and shared,
Kim is doing better but she still has a long way to recover from the robbery. She has been receiving some professional counseling. Her friends and family have been really supportive. Her sisters and mom have been checking on her every day.
Kim's birthday is on Friday, but according to reports, she plans to keep the celebration small and simple.
We wish her the best during this difficult time. Happy early birthday, Kim. Your fans are here for you.
Citations: Kim Kardashian Robbery Footage (TMZ), Kim Kardashian Birthday Plans (E! News)