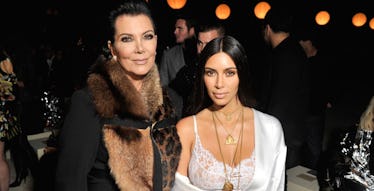 Kris Jenner Opens Up About Kim Kardashian Robbery: Recovering Is A 'Process'
REX/Shutterstock
Kris Jenner has opened up about the advice she gave Kim Kardashian to help her heal during this difficult time.
Earlier this month, Kim was held up at gunpoint when five masked men broke into her Paris hotel room.
The mother of two was gagged and bound in the bathroom, forced to plead for her life.
Since the terrifying incident, Kim Kardashian has kept a low profile, canceling public appearances and staying off social media completely.
Kris Jenner spoke to E! News and shared what she told Kim. She said,
One day at a time. It's a process.
According to MailOnline, Kris Jenner also said she's been focusing solely on her children since the October 2 attack.
Yesterday, the manager spent the day with Khloé Kardashian at her Good American Denim line launch event in Los Angeles.
There was a noticeable amount of extra security at the event to keep the Kardashians safe while they enjoyed their time at The Grove shopping area.
Khloé recently commented on the status of Kim Kardashian while on "The Ellen DeGeneres Show."
She told the host,
I mean, it's incredibly traumatic what happened to her. But our family is super close and great and we'll get through it together, and we do appreciate all of your guys' love and support. It will take time. You know, it was horrible what happened to her.
She added,
It's a wake-up call for all of us… But definitely just to make sure our sister is OK.
Kim Kardashian has not commented on the incident yet with her fans, but her assistant, Steph Shep, did send along a handwritten message to her app users on behalf of the reality star.
She told subscribers,
hey group, so you may have noticed we haven't updated the app in a couple weeks Keeks is taking some much needed time off. But not to worry cuz We've called upon Kim's closest friends, fam & yours truly to serve up some exclusives Stay tuned for new posts and app takeovers!! thank you so much for your support for my girl Love you mean it! Steph Shep
On Tuesday, new Halloween KIMOJIs were added to her app.
As of now, it looks like Kim Kardashian is only interested in talking to friends and family to help her move forward after the traumatic experience.
Citations: Kris Jenner Opens Up About Kim Kardashian (MailOnline)