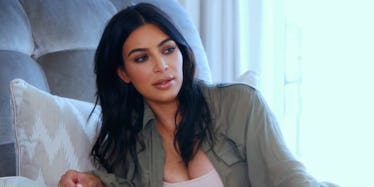 Chilling 'KUWTK' Clip Shows Kim Kardashian Talking About Guns Before Robbery
E!
Kim Kardashian has kept a low profile since the terrifying robbery that took place in her Paris hotel room.
Earlier this month, five masked men entered her home and stole millions of dollars worth of jewels. The reality star was held up at gunpoint, bound and gagged in the bathroom and forced to plead for her life.
The mother of two has been off the radar for three weeks now, but that hasn't stopped "Keeping Up with the Kardashians" from airing the second part of its 12th season.
A new episode played this Sunday, and fans can't seem to get over a chilling clip from the show.
In one scene, Kim Kardashian, Kris Jenner and Khloé Kardashian were all together talking about Kanye West's "Famous" music video.
Toward the end of their chat about why Caitlyn Jenner was one of the celebrities featured, Khloé Kardashian raised her arm and made a slow motion as if she was firing a gun.
The move didn't sit well with Kim, who immediately responded,
Actually, I really hate guns so I don't ever want to make that motion.
The footage didn't reference the robbery, but it still was unsettling to hear Kim speak bout her hatred for guns right before she was attacked in France.
Kim Kardashian has not yet broken her silence on social media, but a source shared an update on her status with E! News, saying,
Kim is doing better but she still has a long way to recover from the robbery. She has been receiving some professional counseling. Her friends and family have been really supportive. Her sisters and mom have been checking on her every day.
It's unclear if Kim will ever speak about what happened to her. As of now, we know she's taking time to be with her friends and family instead of posting photos for her fans.
Keeks, we're here for you when you're ready.
Citations: Kim Kardashian Gun Comment In 'KUWTK' (BuzzFeed)