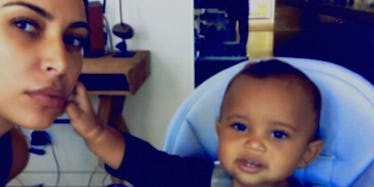 Kim Kardashian Shares Adorable New Photos Of Saint West And Baby Dream
Instagram
When Kris Jenner isn't stealing Jennifer Lopez's look at the Oscars, she's spending quality time with her family. Luckily for us, Kim Kardashian loves taking photos of their special moments together.
The 36-year-old star took to Snapchat to share a heartwarming photo of Kris Jenner, Rob Kardashian and little baby Dream Kardashian bonding at home.
This means we no longer have to rely on this video to remember what Dream looks like.
In the new photo, Kris Jenner is sitting next to Rob as she holds 3-month-old Dream in her arms. Baby Dream is pictured wearing a pink onesie. Oh, and at first sight, you'll probably want to squeeze her cheeks!
Fortunately for her, this is the internet, and you can't. You'll just have to channel your emotions with emojis like Kim did.
Here's the photo Kim Kardashian shared on Snapchat of Rob Kardashian, Kris Jenner and Dream Kardashian.
Let's enchance this Snapchat masterpiece for better viewing.
AWWW! She looks like a little marshmallow. They're TWINS!
After blessing Snapchat with a new flick, Kim Kardashian then took to Instagram to share never-before-seen photos of Saint West.
You know, just hanging with mom...
He's a natural!
Compared to last year, it seems like the Kardashian-Jenner fam is doing just fine (minus Blac Chyna, of course).
She's noticeably absent from Rob's side in the first photo. That's not too shocking since the 28-year-old star split up with Rob Kardashian earlier this month.
Their on-and-off relationship began looking even more unstable after Chyna was spotted with a new mystery guy on two separate occasions without her engagement ring.
One of those times was during Super Bowl weekend.
While Chyna hasn't been spotted with the same guy after the first two instances, Rob and Chyna currently remain broken up. Sorry, shippers.
A source close to the former couple spoke to Us Weekly about the split, revealing,
Rob thinks it's the right decision. Chyna has disappeared for days at a time without communicating or providing any updates. This won't end well.
The last time we heard about Chyna, she was raving about how she managed to lose 40 pounds since giving birth to Dream in November of last year. I suppose she's busy working on that "revenge body."
Citations: Dream Kardashian and Kris Jenner Cuddle Up as They Enjoy Family Time with Rob and Kim (People)