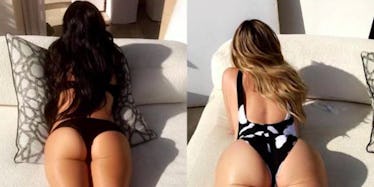 Khloé And Kourtney Tan Their Butts In What Scott Disick Calls An 'Ass Parade'
Snapchat
It may be the middle of November, but right now it feels like mid-May in Los Angeles.
While the Eastern seaboard is feeling a bit of a frosty chill, the Kardashians out in LA are like, "Thanksgiving? More like Independence Day since it's eternally summer out here."
Khloé Kardashian and Kourtney Kardashian recently went sunbathing and Kourtney's ex Scott Disick managed to capture the whole tanning session on his Snapchat.
Of course, Scott Disick captioned his kinda (more like extremely) voyeuristic snap, writing,
ASS PARADE
Uh, I don't know what national holiday requires an "ass parade," but I'm calling Hallmark RN. We're putting this up on next year's calendar.
But I digress...
No, it's totally not weird that Scott wrote this about his ex-wife and her sister. I cannot think of anything out of place about this caption. My reaction?
Sorry, in case my sarcasm isn't apparent through my writing, I find this choice of caption to be incredibly questionable at best.
But wait a second. Are... are these two former spouses reunited?!
We reported earlier how the two took a trip together, sparking rumors that these exes are totally going to Bone Town, USA (Population: Kourt and Scott).
Naturally, this isn't the only booty-related Kardashian news from this past week.
Earlier this week, we reported how a theory was circulating around the internet that claimed that Kim Kardashian's robbery was staged in order for Kim to have a butt reduction surgery.
It would seem that Scott's snap confirms that Khloé and Kourtney would probably never get butt reduction surgeries.
Welcome to November in California, world. Eat your frozen, icicle-covered hearts out!
Earlier in September, Kourtney wore a bathing suit that had "KHLO $$$$$" written on it.
It's as the old adage goes: The sisters that sunbathe together, have... uh, faith in each other.
OK, that's not really a saying, but it must be nice to hang out around the pool and the beach with your siblings all the time.
Citations: Khloé & Kourtney Kardashian Tan Their Ass Cheeks In Skimpy Swimsuits! (Perez Hilton)