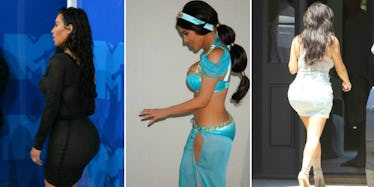 Crazy Theory Claims Kim Kardashian's Robbery Was Staged For Her Butt Reduction
REX/Shutterstock/Instagram
There have been some crazy theories as to just how armed robbers got into an extremely private hotel room in Paris, where they stole millions of dollars worth of jewelry from Kim Kardashian.
One theory even includes that it was Kris Jenner's plan all along to overshadow Rob Kardashian and Blac Chyna's baby Dream.
Since the terrifying robbery, Kim Kardashian has avoided the public eye, halting her social media presence.
In fact, the reality TV star has only been seen in public three times since the crime. The only updates fans have received are from her popular app, which is being updated by her friends and family.
However, fans are starting to expect that Kim staged the robbery in order to get a... butt reduction.
OK, maybe they're not really "fans."
Pictures that were recently posted on Kim's app by Robert Kardashian are being used as proof that the star received a butt reduction and took the time away from the social eye to cover up her recovery.
I mean, maybe it's the angle?
You have to admit that the difference is apparent.
However, you also have to admit that Kim Kardashian went through a terrifying experience, and she may have lost weight due to post traumatic stress.
And, if she did get a butt reduction, it is probably best for the mother-of-two's health.
Hawk-eyed fans have noticed an "indent" on her butt a number of times, claiming that it's from a botched butt job.
However, Kim says that she suffers from psoriasis, and has to get a cortisone shot to treat the skin condition.
Her dermatologist said that there would be a "one in a million" chance the shot would cause an indent, and that is the reaction she had.
While it does look a lot smaller than back in the day -- Kim K. could have just dropped a little more of the baby weight from her pregnancy with her second child with Kanye West.