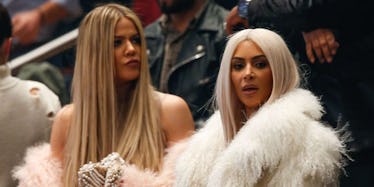 Khloé Kardashian Says Social Media Wasn't The Cause Of Kim's Robbery
REX/Shutterstock
Leave it to Khloé Kardashian to set the whole mother-hecking world straight regarding her sister Kim Kardashian's Paris robbery.
Since the ordeal last October, some followers have blamed the family's very public, active social media presence for putting the Kardashians in danger and allowing the thieves to gain access to Kim.
Using the same plain-as-day logic many of us use to invalidate rape culture, Khloé insisted one's decision to maintain a social media presence is not an open invitation for crime, violence and theft.
She told "Today,"
I don't believe that because people show their life anywhere that anyone deserves, or there's consequences of, getting robbed.
Additionally, Khloé claimed reports insisting Kim and husband Kanye West are divorcing following her robbery and his hospitalization are baseless.
She said,
There's rumors — I mean, I've been pregnant for, I think, eight years now… It's like rumor after rumor after rumor… We've just learned to not address them.
Though Khlo's eight-year pregnancy is just another saucy rumor swirling around the ol' mill, she admits it could be a legitimate announcement in the near future.
The 32-year-old blushed at the mention of boyfriend Tristan Thompson and, when questioned about the potential of motherhood, said,
I definitely hope so. I mean, God-willing.
If the timing isn't right for Tristan, Khloé is more than welcome to adopt me. I'm not small and I'm definitely not cute, but I'm low-maintenance, and I'd let her drag me along to every torturous workout sesh her heart desired.
Khloé is going to want her future child to understand her journey, so who better to adopt than a grown woman with a sister whose only discernible difference is 20 less pounds of bagel weight?
She told "Today,"
If you would have asked me five years ago if anyone would have put me in the 'fitness' category, I would have said, 'You're out of your mind. There's no way. I'm the fat, chubby, unhealthy sister of Kourtney and Kim.'
My new mom mentioned she's "honored" now to help others find their way to a healthier life on her show "Revenge Body," which premiers Thursday night on E!
Khloé claimed if she could help "just one or two people," she'd know "why [she's] been given this platform."
Hallelujah, mom. I'll see you Saturday to sign my adoption papers.
Citations: Khloe Kardashian Opens Up About Kim's Robbery, Having Babies and Being the "Fat Sister" (E!)