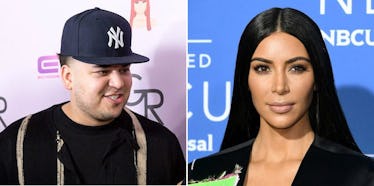 Khloé Calls Out Rob For Hooking Up With Kim K Lookalike In Awkward 'KUWTK' Clip
Greg Doherty/Getty Images and Dia Dipasupil/Getty Images
Let me be the millionth person to say... Rob Kardashian, WTF, dude?
In a recent KUWTK clip, sister Khloé Kardashian and brother Rob have a weird – I will NOT say intimate, but I will imply it strongly – conversation in Khloé's bed about Rob's sex life that takes some serious twists and turns.
We all know Rob is a secret bleeding heart, totally crumbling from his first public break up with Adrienne Bailon and giving us some serious Ross and Rachel vibes with long-time Kardashian friend Malika back in the day.
No one can blame the guy for having a seriously warped sense of love and dating... what, with being the youngest and only brother to the most famous group of sisters (and iconic sex symbols) of our generation and all.
THAT SAID, it's a bit much to learn Rob once hooked up with a Kim Kardashian lookalike.
Oof.
Khloé calls Rob out in this recent KUTWK clip, saying, "Do you remember when you f*cked the girl who won the Kim Kardashian lookalike contest?"
...Sorry, what was that?
Rob immediately gets uncomfortable and tries to dodge the awkward question with an even MORE gross story.
He weirdly launches into a tale about a girl who "showed up butt naked" to Khloé's house, and then "period-ed all over the bed" while he had sex with her.
Wait, what? Rob. Stop talking.
And while we're at it, Khloé, STOP TALKING! Apparently, she followed up with an even weirder question asking, "Why didn't you ever sleep with someone who won a Khloé Kardashian lookalike contest?"
OK, OK, OK, we get it, guys. You're obsessed with one another.
The rest of the episode features some expected and still uncomfortable controversy surrounding Caitlyn Jenner's memoir that bashes ex-wife Kris Jenner, and then later Khloé strapping Rob to a machine that simulates menstrual cramps.
Because of course she did.
This family, man.
Citations: 'KUWTK': Khloe Kardashian Reminds Rob About the Time He Allegedly Had Sex With a Kim Kardashian Lookalike (Eonline)