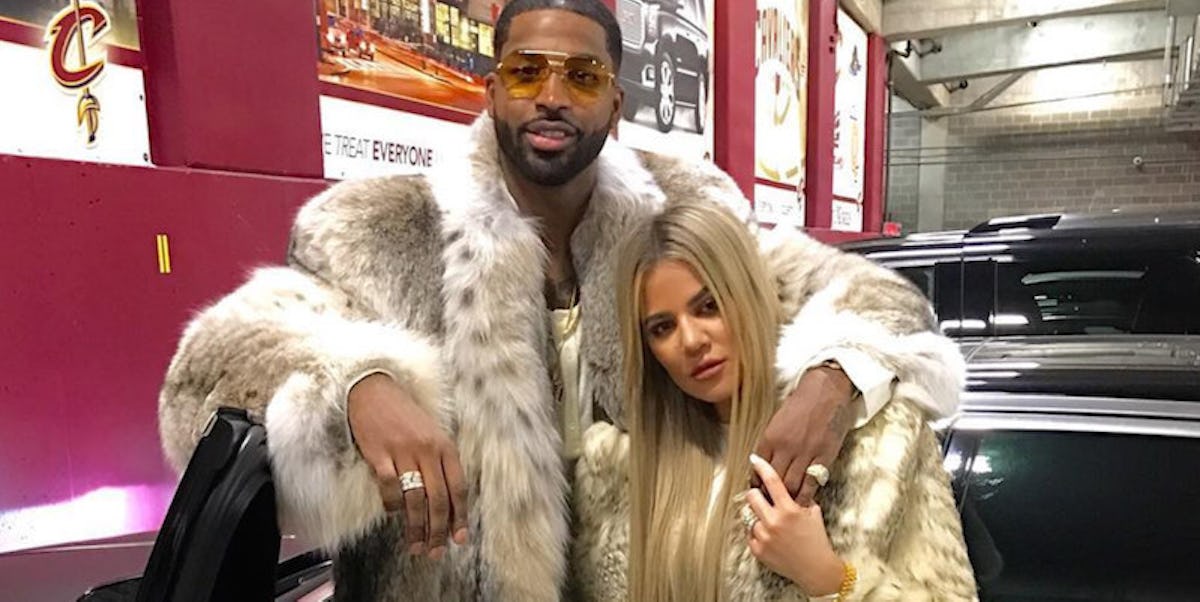 Khloé Kardashian Packs On PDA With Tristan Thompson In These Steamy NYE Pics
Instagram
Khloé Kardashian is NOT afraid of showing some super-public PDA with her new beau.
There are two kinds of people on New Year's Eve. The first are those who have somebody to kiss at midnight, whether it be a stranger or someone they're married to.
It's not important WHOM you're kissing in this case, it's only important you're kissing someone.
The second group are lonely loser sacks who only kiss the blow-y side of a disposable plastic NYE noise-maker.
Khloé Kardashian is the first kind of person.
The 32-year-old "Revenge Body" guru made sure to spend some quality time with her new beau, Cleveland Cavs star Tristan Thompson.
At midnight, Khloé made sure she got herself a piece, IFYAKNOWWHATIMEAN.
The couple spent a large chunk of the holiday season together despite their long-distance status.
On Christmas, Tristan posted the following shot of the couple, wishing a merry Christmas and happy holidays to his fans.
A week before that picture, Khloé posted this upload to her Instagram of the two wearing camouflage in a white building, which defeats the purpose of camouflage.
Following her public split from Lamar Odom, Khloé was linked to Trey Songz and James Harden. After those relationships ended, Khloé started dating Tristan.
The pair has been going out for a few months now, with their big relationship "coming out" party happening around Halloween.
Tristan and Khloé went dressed as Marvel romance staples Storm and Black Panther.
Meanwhile, the rest of the Kardashian family celebrated their New Year's in their own fancy fashion.
Kylie Jenner made sure to share her last bathroom selfie of 2016 in the fanciest room I've ever seen.
Kendall wore a top hat because she's a model and models wear top hats.
Kris had some family time with Kourtney's kids.
Kourtney played with sparklers.
Happy New Year, everybody! Somebody get that top hat away from Kendall.