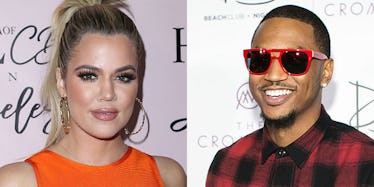 It Looks Like Khloé Kardashian And Trey Songz Are Officially Dating
REX/Shutterstock
Khloé Kardashian may officially be off the market, y'all.
The "Keeping Up with the Kardashians" star was spotted locking lips with Trey Songz over the weekend, so it looks like things are getting pretty intimate. The lovebirds were seen together at Drai's Nightclub inside The Cromwell Hotel in Vegas on Saturday night. They were even photographed leaving together.
OOOOOOOO, SEXY TIME! Khloé Kardashian and Trey Songz are so in love, it hurts.
In all seriousness, Us Weekly reports that Khloé and the R&B singer are actually dating. OK Khloé, I SEE YOU.
A source close to the Kardashians told the magazine,
They are dating. It's very new, but she's having fun.
Hell, yeah, it sure looks like they're having fun. Making out and partying all weekend? Sounds like a blast to me.
Khloé and Trey have been seen together a couple of times, and it looks like they can't hide their PDA.
Us Weekly reports,
They were all over each other. It was really obvious they were together.
THINGS ARE GETTING STEAMY, YOU GUYS.
The two make a really hot couple, so things are sure to get interesting.
Seeee! HOT.
Congrats on your love life, Khloé. GET IT, GIRL.
Citations: Khloe Kardashian Trey Songz Dating (Us Magazine)