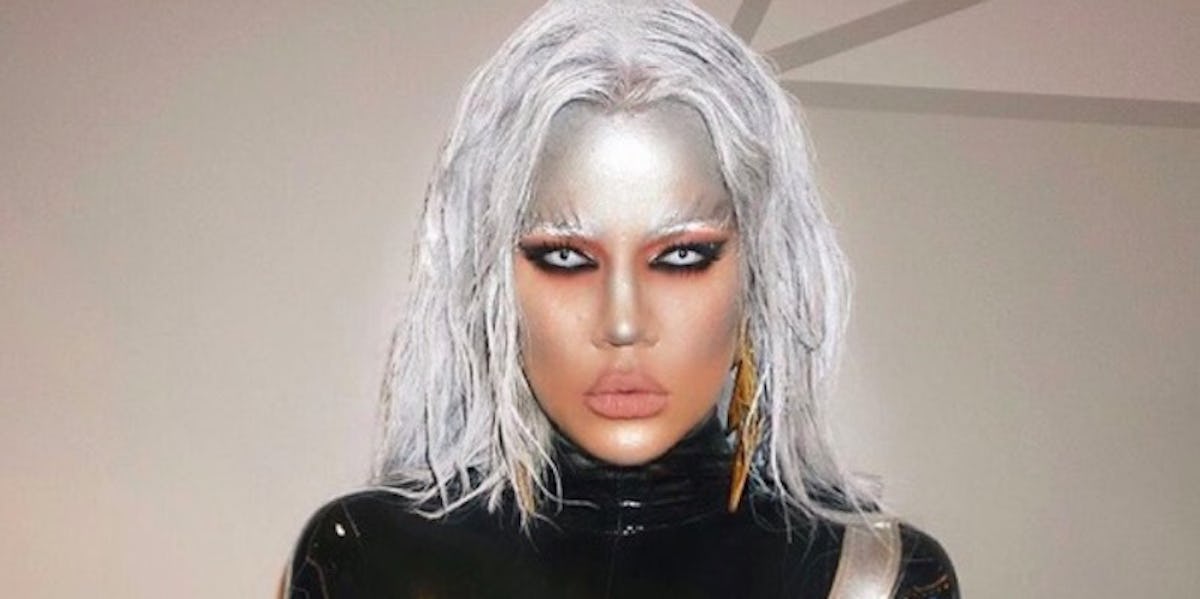 Khloé Kardashian Won Halloween With This Skintight, Latex 'X-Men' Costume
When it comes to makeup, hair and style, Khloé Kardashian doesn't need an excuse to go over the top.
Personally, I like to think the youngest Kardashian sister is making up for years of awkwardly towering behind Kim and Kourtney like an oversized oak tree with a big butt.
With the thinnest body of her life and plenty of attention from eligible bachelors, Khloé puts on a red carpet amount of makeup to sit around her living room all day.
So, it only makes sense Khlo Money would turn up extra hard for the sluttiest holiday of the year, Halloween.
As X-Men's Storm, a role previously played both on and off-screen by bombshells like Halle Berry and Beyoncé, Khloe held her own. She paired a black latex catsuit with over-the-knee boots, a cape and hair sprayed white by Justine Marjan.
And what completes a weather-themed outfit better than a pair of lighting bolt earrings?
Obviously, the queen of doing it all didn't stop there. Khloé's final glam came courtesy of makeup pro Hrush Achemyan, who created a silver-foiled forehead and wiry eyebrows that look a lot like my grandpa's do when he forgets to trim them.
Kohl-rimmed eyes and White Walker contact lenses completed the look.
Within an hour of uploading the look, Khloé's Instagram had gotten more than 200,000 likes. The people love a good superhero costume, particularly one that involves a catsuit on a woman with curves.
How much lube do you think it took to get that on? In my imagination, the end of Khloé's Halloween night was a lot like that scene from "Friends" where Ross can't get his leather pants off. The solution: Baby powder.
Costume aside, there was one familiar element to Khloé's Halloween this year: controversy.
You may recall 2015's celebration, when Scott Disick decided to dress as a Saudi sheikh and was hit with a wave of backlash for his insensitivity? This year, Khloé posted a photo with a different companion who chose to do the same.
She capped the whole posting spree off with a romantic Instagram of recent boo thing Tristan Thompson.
Ah, love and superheroes. Happy Halloween, everybody.