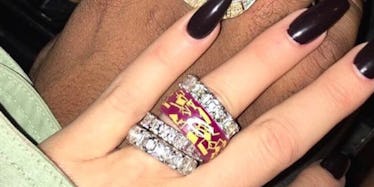 Khloé Kardashian Sparks Engagement Rumors With Pic Of Her Huge Diamond Ring
Instagram
Khloé, Mama, be more explicit, please.
Posting a pic on Instagram of your new basketball boyf Tristan Thompson's left ring finger in a Cleveland Cavaliers ring and YOUR left ring finger in a Cleveland Cavaliers ring AND three diamond rings is only going to inspire the rest of us to draw too many conclusions.
Help us narrow this down.
Did Tristan propose after the game?
Are you the Cavaliers' new full-time bus driver?
Did Tristan propose before the game?
OMG, are you JOINING the Cavaliers?
OMG, did Tristan propose DURING the game? How even…?
Heads are truly spinning off their damn necks over here, KoKo. There are heads all over the floor and necks that go nowhere. It's a massacre.
Oh, and you captioned this picture with a heart emoji?
Ugh, KHLO! You could very well be professing your love for your new fiancé, Tristan, but you could also easily be professing your love for the 220 horsepower engine you finally get to feel beneath your butt cheeks.
Listen, whichever it is, we're jealous. We'd just like to know precisely where to target that jealousy.
We'll just have to come to wild conclusions based on scraps of information we collect elsewhere, I suppose.
Last week, your bestie Malika freaking gushed to PEOPLE about how adorable a couple you and Tristan are, but she remained notably silent about the bus.
She said,
Not only do they look really good, I think it's really special to find two people that there's an element of joy and laughter that all of us are supposed to attain in relationships. And I don't mean just male and female, but the fact that you can find that best friend aspect in your partner, that's what it's obviously about.
Hmm... looking back, Malika was a bit vague. In the quote above, she doesn't even mention Tristan by name. Could Malika have been referring to a certain automobile that requires you to carry a commercial driver's license?
It's still unclear, Khloé. Only you can set us straight.