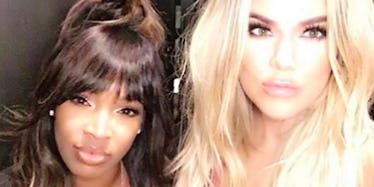 Khloé K's BFFs Say Her Relationship With Tristan Thompson Is 'The Cutest'
Your best friends better be willing to circulate vague, glowing reviews of your dating life when asked.
If not, dump them and bond with a Malika and a Khadijah who can spin a web of beautiful but ultimately meaningless words to keep the public drooling over your romantic successes.
The Haqq twins attended Nordstrom's launch of their bestie Khloé Kardashian's denim line, Good American, and seemingly shared some insider info regarding Koko's budding relationship with Cleveland Cavaliers player Tristan Thompson.
Malika told PEOPLE,
He's really nice to her. He's the coolest guy in the world — and you know, Khloé's always loved basketball… They're both very giving and very kind. They take great care of their friends and their families. They love to enjoy themselves. They both work very hard. They have a lot of things in common, and they're extremely supportive.
Gotcha, gotcha. The secrets to winning Khloé's heart are kindness, great personal relationships, a fun-loving attitude, an entrepreneurial spirit and, like, being really, really amazing at basketball. Just be the best at basketball.
The "Keeping Up with the Kardashians" cast member added,
When you love genuinely, you get what you're supposed to get out of that. So, I think she's just being smart, but I think she's trusting love.
Khadijah agreed the 32-year-old Kardashian sister is always "going to follow her heart," especially when it comes to Tristan, and also called the new couple "the cutest."
She said,
Not only do they look really good, I think it's really special to find two people that there's an element of joy and laughter that all of us are supposed to attain in relationships. And I don't mean just male and female, but the fact that you can find that best friend aspect in your partner, that's what it's obviously about.
Malika also addressed fans' concerns Khloé rushes into relationships, citing the reality star's 2009 wedding to former LA Laker Lamar Odom.
She explained,
I think Khloé is really smart, in general, when it comes to relationships… I think the stigma now is that she rushes, because she had rushed into her marriage, but she's a lover.
That's our Khloé: a lover of blue jeans, boys and, above all, basketball.
Citations: Khloé Kardashian's BFFs Say Her Romance with Tristan Thompson Is Full of 'Joy and Laughter' (PEOPLE)