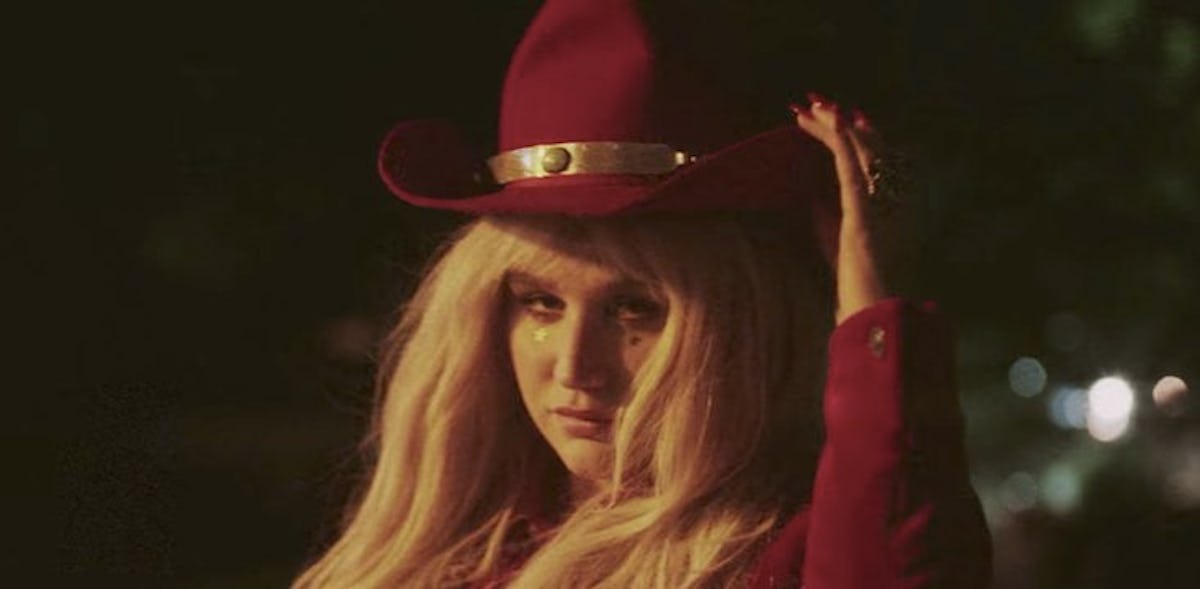 Kesha's Fans Are All Making The Same Joke After Listening To Her 'Rainbow' Album
YouTube
Wow, what a great day to be alive. On Friday, August 11, Kesha dropped her Rainbow album and I've already listened to it 12 times straight. If you fell in love with "Praying," "Hymn," and "Learn To Let Go," then prepare yourself for the other gems on this album. Fans are obsessed with Rainbow, but it looks like everyone is making the same joke after listening to the track list. Specifically, fans can't stop talking about Kesha's "Spaceship" lyrics.
After hearing the entire album, you might be surprised to learn several of the songs have a country vibe to them. "Spaceship," "Old Flame," and "Hunt You Down" definitely take me straight to the countryside. Kesha sings country? Lmaoooo, who knew?!
Clearly, not her fans. Everyone went to Twitter to share their reaction after listening to Rainbow's country tracks, and the memes are hilarious.
SORRY *MEME, 'CAUSE LEGIT EVERY PERSON MADE THE SAME FREAKIN' JOKE.
It looks like the general reaction to Kesha's album went something like this: "Woah, is this country?" "Yeah, it's country..." "WTF, do I like country?" "HOLY SH*T, I LOVE COUNTRY!!!!!"
Kesha, in one album you accomplished what Miley Cyrus has been trying to achieve in a lifetime. Kudos to you, girl.
PS. Check out some of the hilarious tweets below.
All of them are funny except this one. This one sucks.
So, should we look a little closer at some of these country tracks? Kesha's "Spaceship" lyrics start with:
I always said when I'm gone, when I'm dead Don't lay me down with the dirt on my head You won't need a shovel, you don't need a cold headstone You don't need to cry, I'm gon' be going home
Then it goes straight into the chorus:
I'm waiting for my spaceship to come back to me It's coming back for me I don't really care if you believe it's coming back for me, yeah I been in a lonesome galaxy But in my dreams, I see them come 'n rescue me Look up in the sky and there they'll be I bet you'll think of me then You're gonna say, "Ooh, look at that, oh yeah, yeah" Damn, if it ain't true They're coming back for me, they're coming back for me, yeah
Hmm, interesting. We have this whole outer space theme going on but really it's a country song. I know nothing about country music/outer space/spaceships so I apologize for my total lack of insight. My takeaway? This song rocks and now I'm a country fan???!?!?! I want to go to space???? Astronauts are hot???
Thanks for making me a country girl, Kesha. Can't wait to bring my cowboy boots to your concert in the fall.
(But for real, where the F do I buy a pair? eBay???)