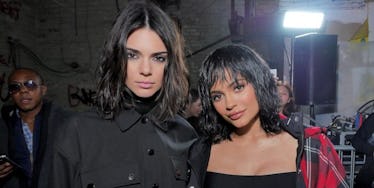 People Think Kendall And Kylie Jenner Stole Their Sandal Design From Chanel
REX/Shutterstock
Whaaat? Kendall and Kylie Jenner might have taken credit for an idea that isn't theirs?
The Jenner sisters?! Never!OK, OK, to be fair, I don't know if these allegations are true or not.
What I do know is that a sharp-eyed fan on Twitter noticed something a little bit fishy about the Jenner's latest shoe collection.
Kendall Jenner announced a new $125 Kendall + Kylie sandal that is now available at Nordstrom in a tweet on Tuesday.
The sandals come in black and gold, black, white and latte colors (?), and feature leather chain-like design on the top.
Personally, not the kind of footwear I would drop $125 on, but still pretty cute.
But here's the thing that this one Twitter user noticed: Chanel has an extremely similar sandal on its racks right now, called Chanel's Nylon Chain Slides.
(Does Chanel have racks? I only shop at Kohl's, so I wouldn't know.)
Here's a better look at Chanel's version of the sandal:
They're available for $995 online. Suddenly those Jenner prices don't seems so bad.
And here's another look at Kendall and Kylie's version:
Yeah, not seeing a ton of differences here.
In fact, as far as I can tell, the only difference is that the Jenner version has chain made out of leather, while Chanel's are made of metal.
Neither Kendall, Kylie nor anyone from Chanel has commented on the similarities yet.
Of course, Kendall is pretty good friends with legendary Chanel designer Karl Lagerfeld, so I'm sure everything can be worked out out amicably.
Still, it's getting harder and harder to take Kendall seriously these days. I mean, earlier this week she was out in public with an actual, honest-to-God gold tooth.
And now, it turns out she might be stealing her shoe designs. Kendall, it's like I don't even know you anymore!
Oh, right, I've never known you and probably never will. Carry on.
Citations: Kendall and Kylie Jenner's Chain Slides Look Similar to Chanel Sandals, Fans Say (Teen Vogue)