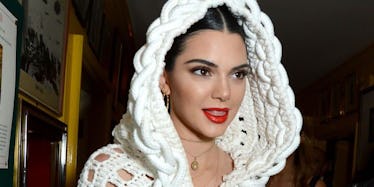 Kendall Jenner Rocked A Gold Tooth And Twitter Can't Take Her Seriously
REX/Shutterstock
Is Kendall Jenner spending way too much time with A$AP Rocky?
I suppose the answer to that question depends on whether or not he's responsible for the fact Kendall was seen sporting gold teeth in London.
According to TMZ, Kendall Jenner attended the Love and Burberry party at Annabel's Club in London on Monday night. What better way to show up to London Fashion Week than with actual gold in your grill?!
It should be noted the "gold teeth" in Kendall's mouth are actually gold caps, according to the report. In other words, no, Kendall did not get her real teeth replaced with gold ones.
The gold caps are simply a cosmetic accessory that can be removed with ease. Still, that didn't stop fans from freaking out over the new bling.
Kendall Jenner attended a London Fashion Week event on Monday night sporting gold teeth, and people can't handle it.
Fans took to Twitter to express their disapproval.
Apparently, Kendall Jenner isn't allowed to possess such bling.
One user even pointed out some people are praising Kendall for wearing gold teeth while other people of color are criticized when they do the same.
Does anyone know why Kendall even has gold teeth?! One fan has a good idea about what might have inspired them.
After all, Kendall's unofficial man A$AP Rocky has a thing for gold teeth. Could he have been her inspiration?
Look, if Kendall Jenner wants to rock a few gold teeth in London, just let her do her thing!
Don't forget the 21-year-old supermodel isn't the first celebrity to wear this kind of jewelry.
Does Ryan Lochte's American flag grill ring a bell?!
What about the time Katy Perry wore one to the VMAs?
Kendall's half-sister Kim Kardashian also showed off some mouth bling of her own.
I rest my case. Sometimes, you just have to step out of your comfort zone and channel your inner rapper. No harm, no foul!
Citations: Kendall Jenner: Lil Somethin' in Her Teeth... And It's Blinging! (TMZ)