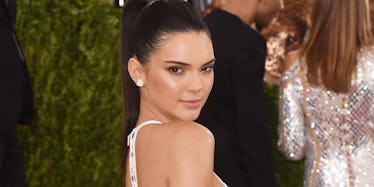 Kendall Jenner Says She Totally Fangirls Over This One Celebrity
REX/Shutterstock
Like any sensible person with two ears, a heart and a sense of self-preservation, Kendall Jenner is a Beyoncé fan.
The 20-year-old fashion model and reality star recently sat down with legendary fashion designer Karl Lagerfeld, 82, for Harper's Bazaar.
The two talked first impressions, childhoods and, of course, fashion.
When they got to the question of favorite musical artists, Kendall did not hesitate to gush. She said,
Beyoncé. Oh my God, are you kidding? I am 100 percent a huge fan of Beyoncé. If I see her, I will faint. I've met her before. I just get really nervous and quiet — I just shut up and bow down.
So basically, Kendall is just like us. She probably also got the 30-day free trial of TIDAL just so she could listen to Lemonade.
JK, of course, she has the full version of TIDAL. She's Kendall Jenner.
I gotta admit, I really enjoy the image of Kendall fangirling over meeting Beyoncé, and Kim Kardashian West being like,
Ugh, Kendall, stop. You're so embarrassing.
Kendall also gave a shoutout to J Biebs, saying she has the Bieber fever, though it sounds like she's not quite as starstruck over him as she is with Queen Bey.
She said,
I went to Justin Bieber's concert the other night. [Laughs.] Of course I have the fever! He's a really good friend of the family's, so we all went to support him.
I guess we know what to expect from a Kendall Jenner playlist now. #FLAWLESS.
Citations: SEASON PREVIEW: KENDALL JENNER, IT GIRL (Harper's Bazaar)