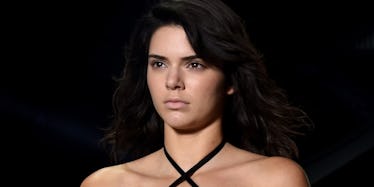 Kendall Jenner Said She Had 'Never Been So Scared' When Confronting Stalker
REX/Shutterstock
Being a Kardashian (or a Jenner in this case) isn't easy.
Think about it.
Not only do tons of people hate (and love) your guts from afar for no apparent reason, but you also have to find time in your busy superstar schedule to please all of your fans by replying to their social media posts, handing out autographs and connecting with your fan base daily.
It doesn't stop there because, on top of that, there are the batshit-crazy stalkers out there who will literally do anything to get close to these celebrities.
The annoying paparazzi and their absurd questions aren't who I'm referring to.
I'm obviously talking about people like Shavaughn McKenzie, the stalker who preyed on Kendall Jenner in August and scared her so bad, she's still affected by her encounter with him today.
Kendall recently appeared in court to take the stand regarding her ongoing case against McKenzie.
During her appearance at the LA County court, Kendall remembered the horrifying incident, saying,
I've never been so scared in my life.
It all took place on the night of August 14.
Kendall had been on her way home when she noticed a man sitting down near the driveway of her Hollywood Hills home.
According to TMZ, Kendall Jenner told the judge that the man had his head "tucked between his knees" when she saw him (um, weird).
At that point, she knew something was up and proceeded to drive around him and into her driveway. She looked behind her to see if the gate had closed and that's when she noticed McKenzie in her side-view mirror. He followed her in.
This is no laughing matter, but seriously, that right there... that's straight out of a horror movie. Poor Kendall!
The 20-year-old star continued describing her horrid encounter with stalker Shavaughn McKenzie by telling the judge that when she realized he was on her property, she screamed, "who are you?!"
Kendall says that the man just stared at her in response. That's when she cracked her window and yelled, "I want you to leave!"
That's when the situation had the potential to spiral out of control. McKenzie reportedly began banging on the windows of her car in a fit of rage. Quickly thinking, Kendall immediately pulled out of her driveway and drove to another location where she was able to call a friend.
Since the criminal court case against her Shavaughn McKenzie is still ongoing, Kendall is expected to take the stand once again.
We'll see where this goes, but as of now, Kendall Jenner has been granted a 5-year restraining order that prevents McKenzie from being anywhere within 100 yards of her car, her house, her workplace and Kendall herself.
Citations: Kendall Jenner Describes Stalking Incident 'I've Never Been So Scared In My Life' (TMZ)