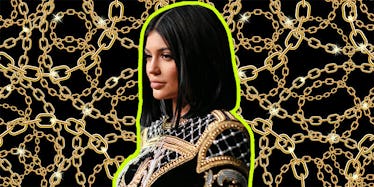 A Kylie Jenner Superfan Showed His Love For Kyshadow In A Permanent Way
REX/Shutterstock
All of you diehard Kylie Jenner fans out there are going to need to try a little harder when it comes to showing your appreciation for the 18-year-old lip kit mogul and reality TV star.
It looks like a true superfan just went to great lengths to honor Kylie Jenner just after her Kyshadow makeup release.
Kylie Jenner superfan Johnny Cyrus took to Instagram to reveal his permanent, everlasting love for Kylie. First, he tattooed the Kylie Lip Kit logo on his arm.
Then he followed up by adding the Kyshadow logo to his tattoo collection.
Look familiar?
Cyrus also has a King Kylie logo tattoo on his wrist.
Now, I know what you're thinking... But what did you expect from a guy whose entire religion is based on praising Kylie Jenner?!
It doesn't look like Johnny Cyrus has any intentions of discontinuing his support for the star.
...Despite the internet questioning the superfan's obsession with Kylie Jenner and citing it as "unhealthy."
Ah, what a place. What a time to be alive.
So, what do you guys think? Is this fan's obsession too much or is that his decision to make? You be the judge.
Citations: Kylie Jenner's Biggest Fan Just Got the Kyshadow Logo Tattooed on His Arm (Cosmopolitan)