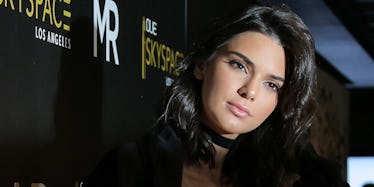 Kendall Jenner's Alleged Stalker Promised Her He Didn't Have A Gun
REX/Shutterstock
Kendall Jenner's stalker was officially ordered to stay away from her, according to a report from TMZ.
The report states a man named Shavaughn McKenzie has been following the 20-year-old model around for quite some time.
On Sunday night, McKenzie allegedly showed up at Kendall's home in Hollywood Hills where he was eventually arrested and charged with misdemeanor stalking.
A police report says McKenzie was waiting for Kendall when she got home.
He apparently banged on her car window when she pulled into her gate and asked if he could talk to her. Kendall began to scream, and he allegedly tried to reassure her by saying,
Hey look, I don't have a gun.
This man also allegedly stalked Kendall at her West LA condo and chased her car down the street when she left the house.
TMZ reports McKenzie was charged with a misdemeanor by police and then hit with a restraining order by Kendall's lawyers.
Phew! Hopefully Kendall can finally have some peace and get over this scary encounter.
Now she can just focus on dating A$AP Rocky, which is probably a full-time job.
Citations: KENDALL JENNER Alleged Stalker REPEATEDLY FOLLOWED, HARASSED AND CHASED (TMZ)