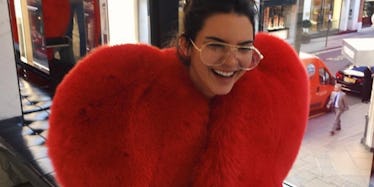 Kendall Jenner Breaks Post-Robbery Instagram Silence To Show Off $15K Coat
Instagram
The Kardashian sisters have been creepily quiet on social media since Kim was robbed at gunpoint in her hotel room in Paris earlier this week.
One could only assume the ladies are taking time to reevaluate their tendencies to shamelessly flaunt their wealth on social media, but -- who are we kidding -- these are the Kardashians we're talking about!
Of course they're not going to stop.
Even though Kim, still shaken, has reportedly blamed the robbery on her Snapchats of her $4 million ring, her sister Kendall has already moved on from the traumatizing break-in.
In fact, she finally broke the post-robbery silence by posting an Instagram showing off a $15,000 coat.
Kendall, c'mon! Have you learned NOTHING from your older sister?
We understand you can easily afford an obnoxious red coat that makes you look a bit like Gossamer from "Looney Tunes," but I won't digress.
OK, maybe I will... for, like, a second.
Anyway, the "heart cape" by Saint Laurent that Kendall is showcasing was also purchased by Rihanna and costs a whopping $15,500, according to Cosmopolitan.
So, yeah, posting this photo proves Kenny has a lot of doe she's ready to spend (as if we already didn't know that).
Here are some photos of Rihanna flaunting the fuzzy getup in New York just a few weeks ago.
Ordinary people wear their heart on their sleeve, but this is #Rihanna! pic.twitter.com/lRjMTC7BN5 — Mike Sington (@MikeSington) September 5, 2016
Part of me wishes I could pull this thing off, but the other part of me is really thankful I can't.
Either way, Kendall definitely can -- and she wants the world to know it.
Unfortunately, she isn't taking into consideration the facts her sister was just robbed at gunpoint and that publicly sharing her expensive belongings *might* have had something to do with it.
Too soon, Kendall, too soon.