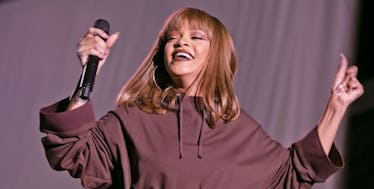 Rihanna Is Definitely In Love, And This $15,550 Outfit Proves It
REX/Shutterstock
Rihanna is far from boring.
In fact, the word "boring" should never even be in a sentence talking about the 2016 winner of the Michael Jackson Video Vanguard Award.
Her music, love life and sense of fashion are dramatic and riveting. Rihanna never ceases to amaze.
We all saw her performances (plural) at the VMAs, and we all know about Drake and that tattoo, but now it's time to discuss her style.
Remember that pink coat? Never forget.
Oh yeah, that pink fur coat, too.
But Rihanna's latest attention-grabbing coat is a bit more... emotional?
The "Work" singer recently appeared in New York in this Saint Laurent heart cape.
This must mean love is on her mind... Can you blame her? Drake's profession of love brought tears to everyone's eyes.
While love is great and all (I'm not bitter), I feel like I have to mention the price of this luxe piece of clothing. According to Cosmopolitan, it'll set you back $15,550.
So us normal people probably won't be wearing this bad boy any time soon, but I'm sure it won't be long until Zara, Topshop and H&M make some sort of copycat version.
Until then, we can just stare at these photos of Rihanna and pretend we could actually pull something like this off.
Citations: Rihanna's Insane Heart Cape Shows Exactly How in Love She Is With Drake (Cosmopolitan)