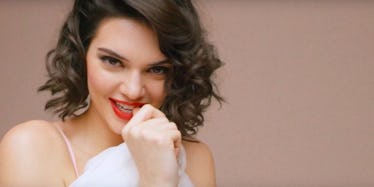 Kendall Jenner Showed Off Her Boobs On Instagram For The Best Reason Ever
Love Magazine
Just in case you're new to, like, all of pop culture in the past five years, Kendall Jenner is a big fan of showing off her boobs.
In fact, it's kind of become her signature look since she first burst onto the high fashion scene in a totally see-through brown top and no bra for Marc Jacobs' fall 2014 collection.
But now, Kendall is showing off her boobs in a very... different way. And she's doing it for a great cause. The model and reality star posted a short video on Instagram on Sunday, showing off her bod in a white crop top with breasts outlined on it.
Not only does the t-shirt clearly fit Kendall's body-positive brand, and abide by Instagram's strict nudity guidelines, but it also happens to raise money for mental health advocacy.
The Boob T is from a London boutique called Never Fully Dressed, and it donates £5 (about $6.25) of each shirt purchased to a mental health support foundation based in London called Mind.
The support for the mental health initiative comes just a couple months after Kendall Jenner opened up about her struggle with anxiety.
Back in January, Kendall posted to her app that she dealt with a lot of anxiety throughout 2016, which might have been related to the increased security the Kardashian-Jenner family employed after Kim Kardashian was robbed at gunpoint in October.
After that traumatic incident, Kim went silent on social media and canceled her public appearances for three months — Kendall followed suit to a lesser degree by also briefly deactivating her Instagram account.
Kendall has also opened up on episodes of "Keeping Up with the Kardashians" about experiencing panic attacks and sleep paralysis.
It's great to see Kendall finding the perfect way to combine her love of showing off her boobs with a cause that she's passionate about.
Citations: Kendall Jenner Wears the Boob T to Support Mind Charity (Teen Vogue)