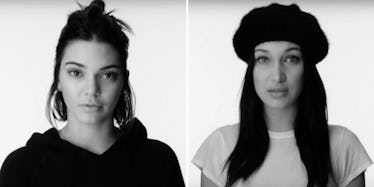 Kendall Jenner And Bella Hadid Have A Simple Message In New Women's Day Video
W Magazine
The fashion world is voicing their support for women's rights on International Women's Day, and Kendall Jenner and Bella Hadid are leading the charge.
The young models starred in a video along with 60 other notable men and women in the fashion industry.
In the video, actresses and models like Sienna Miller, Hailey Baldwin and Winnie Harlow introduce themselves, simply stating "I am a woman." Then, Kendall Jenner asks viewers to respect women, a sentiment that is then echoed by even more fashion icons.
Please respect yourself. Respect women.
Bella Hadid comes in with the final message of the video, stating that women's rights are human rights.
That line is repeated by the rest of the fashionistas, in several different languages.
Check out the full video from W Magazine below.
Such a simple message, yet such a powerful and important one.
One thing that viewers may question while watching the video is why it includes men. A handful of men pop up over the course of the video to voice their support for women's rights, including actor Edgar Ramirez and rapper Travis Scott.
Model and producer Caroline de Maigret, who put the video together, said she wanted to include men because everyone was born from a woman, so we should all be involved in the fight for gender equality.
Kendall wasn't the only woman from the Kardashian dynasty to speak up on International Women's Day.
Her big sisters Kim and Khloe Kardashian both tweeted out their support for all women who are fighting for gender equality.
As for Bella Hadid's famous fam, her big sister Gigi Hadid celebrated sisterhood by voicing her love for Rihanna.
The model used the International Women's Day trending hashtag of #SheInspiresMe to profess her love for Rih-Rih after the singer's fashion show during Paris Fashion Week.
Ladies supporting ladies — that's what the day is all about!
Citations: "Women's Rights Are Human Rights": Kendall Jenner, Bella Hadid and More of Fashion's Biggest Names Stand Together on International Women's Day (W Magazine)