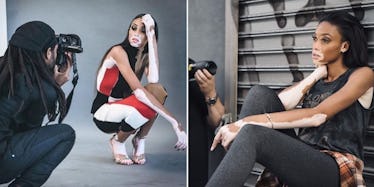 Model Responds To Controversy About People Recreating Her Skin Condition
After finding herself at the center of a heated ethical debate over the weekend, model Winnie Harlow took to Instagram to address the controversy — and her thoughts on the issue took many by surprise.
The Internet-mediated altercation began after several women wearing makeup intended to simulate vitiligo posted photos of themselves to social media.
Many of the women claimed they were sharing these photos to show support for Harlow, who famously bears the marks of the melanin-related condition. Some of Harlow's fans, however, found the social media trend to be distasteful and insulting.
Many argued simulating vitiligo with makeup is akin to wearing blackface. Others insisted it's a form of appropriation; they believed wearing makeup to simulate the disease effectively undermines the experiences of those actually living with it.
Fans continued this heated, back-and-forth argument until yesterday when Harlow addressed the controversy in a lengthy Instagram post.
In a move shocking many, Harlow argued the vitiligo-simulation trend is actually a show of love.
Conceding her response is "probably not what a lot of people want [to hear]," the 21-year-old wrote,
Every time someone wants fuller lips, or a bigger bum, or curly hair or braids does not mean our culture is being stolen. Have you ever stop[ped] to realize these things used to be ridiculed, and now they're loved and lusted over [?]…Why can't we embrace that feeling of love? Why do we have to make it a hate crime? In a time when so much negative is happening, please don't accuse those who are showing love and appreciation of being hateful.
Along with this response, Harlow shared a photo of her cover for Ebony magazine's September issue (which she shares with five other models), as well as outtakes and behind-the-scenes snaps from the photo shoot.
Her photos and her powerful message attracted tons of attention on Instagram, gaining thousands of likes.
However, some are still displeased with her response to it all.
Supermodel with skin condition sparks debate by saying blackface is maybe okay sometimes. http://t.co/Fbr6rFmrXQ pic.twitter.com/1d3VvMYPRV — someecards (@someecards) August 24, 2015
Winnie harlow (1st pic) who's stunning HAS vitiligo, these WHITE woman are mimicking her look,ITS STILL BLACKFACE WTF pic.twitter.com/tGTl8Dh1PN — Black Girl (@BLVCKMATTERS) August 22, 2015
Winnie Harlow out here defending blackface and appropriation. Winnie: Cancelled pic.twitter.com/vHm98f9XD7 — #1 kimberlysus hater (@apunkfemme) August 22, 2015
The ones who do support Harlow argue our culture is too focused on our differences and not focused enough on what makes us all the same.
I officially love @winnieharlow this is literally what ive been trying to say pic.twitter.com/sYlpXgrhSf — Bae$AP Rocky (@KylaRican) August 24, 2015
Wow @winnieharlow's response to people mimicking her vitiligo is so so amazing pic.twitter.com/jHgfOJe2Os — Adri (@settledownadri) August 22, 2015
Here's my question: If Harlow is OK with people simulating her vitiligo, who are we to say it's wrong?
Let's end the drama and celebrate this amazing, beautiful woman who is changing the way we perceive vitiligo and redefining what it means to be beautiful.
Citations: Winnie Harlow, Model With Vitiligo Addresses Cultural Appropriation And Shares Stunning Ebony Magazine Shoot (Huffington Post)