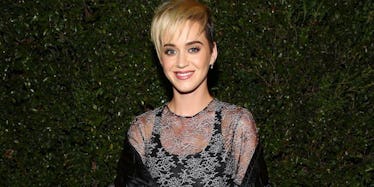 Katy Perry Opens Up About Love After Orlando Bloom: 'It's Not Easy Loving Me'
REX/Shutterstock
Katy Perry hasn't had much luck with love.
The singer has been in a bunch of relatively long-term relationships throughout the past few years that always seemed like they were going to last, but sadly ended in heartbreak.
Now, fresh off her relationship with Orlando Bloom, Katy is opening up about love in her Vogue cover story.
The interview happened to take place over Valentine's Day, so naturally the topic of love came up.
She was still dating Orlando Bloom at the time, but they would break up days later.
It sounds clear the breakup is coming, judging by how Katy talks about Valentine's Day.
According to the interview, she said,
This is like National Doughnut Day to me; it's like a made-up holiday. I think I broke up with Valentine's Day in my 20s. It's just so... pressure-filled. It's not easy loving me...
The day before her Vogue interview was published, Orlando was also talking about his relationship with Katy in a profile for Elle, saying the two are still friends after the breakup.
Katy also touched on her prior marriage to Russell Brand in the interview.
The comedian and singer dated for three months before getting engaged and were married for a year in 2011 before divorcing. Their wedding was two days before Katy's 26th birthday.
Now, Katy says marriage is the furthest thing from her mind:
I wouldn't give anything to go back to my 20s; I'm so much more grounded. And I've learned a lot of lessons — patience, the art of saying no, that everything doesn't have to end in marriage, that your education can start now. I blasted off on a rocket, holding on for dear life.
Katy also had high-profile relationships with John Mayer, Gym Class Heroes frontman Travie McCoy and producer Diplo — all of which lasted at least a year (long-term by Hollywood standards).
Right now is actually the first time since her divorce that Katy might be single for a prolonged period of time, as she focuses on the upcoming release of her sixth studio album due out this summer.
Citations: Katy Perry Is Leaving Her Cutesy Style Behind and Going Androgynous, Architectural, and Political (Vogue)