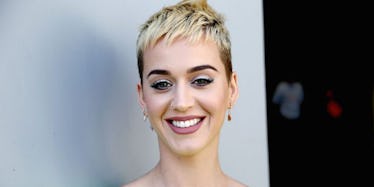 Katy Perry Hugs Fans And Spreads Love In NYC Following Manchester Attack
Getty Images
There have been 22 confirmed fatalities and at least 59 injuries following the attack at Manchester Arena last night during Ariana Grande's concert.
Three of the 22 victims have been identified so far. The first was 18-year-old Georgina Callander, the second was 8-year-old Saffie Rose Roussos, and the third was 26-year-old John Atkinson. It's been reported that many of the injured victims are under 16 years old.
Elite Daily has reached out to Ariana Grande's team for more information, but did not hear back by the time of publication. Ariana Grande's rep confirmed to E! News, "Ariana is okay. We are further investigating what happened."
Grande tweeted last night about the attack.
She said, "broken. from the bottom of my heart, i am so so sorry. i don't have words."
People around the world have been expressing support on social media ever since last night, and those messages of love and support have also been coming from celebrities.
Kendall Jenner, Taylor Swift, Miley Cyrus, Harry Styles, Nicki Minaj, and Bruno Mars have all sent their love and support.
Katy Perry did as well, but she also did something extra. On May 23, she got out of her car in NYC in order to hug fans and spread love in the wake of the attack, TMZ reports.
The singer was leaving the Elvis Duran and the Morning Show when she stepped out of her car and started hugging the crowd of fans waiting outside for her.
In her interview with Duran, she said,
I can't really tell anyone else how they should feel, but I just feel devastated. I think the greatest thing that we can do now is just unite as people, as fan bases, all of it. Because I think as much 'whatever' we say behind peoples' back, because the internet can be a little bit ruthless as far as fan bases go, but I think that the greatest thing we can do is just unite and love on each other. Like, no barriers, no borders. We all need to just co-exist. If this gets out to anyone I just want to say that I love all of you out there and I just know that some of our fan bases go both ways. Ari's fans are my fans, and my fans are Ari's fans. And we're just all loving on each other and we should just stay loving on each other.
She added at the end, "Tell everyone you love, 'I love you' today."
In the video provided by TMZ, Perry can be seen hugging lots of people in the group of fans and saying "I love you" repeatedly.
She then says, "Will you please do me a favor? Will you please, will you please just tell someone that you love them today?"
The fans say they will. She hugs a few more people, then leaves to get in her car.
Today is definitely a dark day, but people find hope in love and support. So follow Katy's message and tell lots of people that you love them today.
Our hearts and thoughts are with the victims and families that have been affected by this senseless tragedy. You can watch the full video here.
Citations: KATY PERRY HANDS OUT HUGS & LOVE TO FANS After Ariana Concert Attack (TMZ)