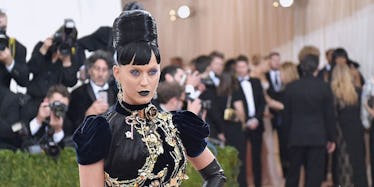 4 Of Katy Perry's Best Met Gala Looks To Get You Pumped For Her Outfit This Year
Getty Images
Say what you want, Katy Perry makes some fashion choices.
Homegirl can rock any color hair, any color lipstick and has the body of a Barbie doll but the personality of someone who eats hot wings and drinks beer and I. AM. INTO IT.
America's eyes will be watching the "Fireworks" singer this year at the 2017 Met Gala where the theme for the evening is Rei Kawakubo/Comme des Garçons: Art of the In-Between.
Sure, I don't know what that means. But I bet Katy does!
Here are her past Met Gala looks, hosted by New York City's Metropolitan Museum of Art in honor of their Costume Institute.
4. 2010 -- American Woman: Fashioning a National Identity
Katy Perry rocked a light pink gown made by CuteCircuit to the red carpet, and sure, while it looks nice and everything, we know Katy could up the anti, like, 1000 percent more.
Not for nothing, this dress DID light up, but at the end of the day it sort of just looked like a lot of fabric ultimately hiding her seriously insane body, and the hair and makeup (her legit speciality) didn't give much of a punch either.
3. 2016 -- Manus x Machina: Fashion in an Age of Technology
OK, OK, OK. Now we're talking.
Last year, Katy not only doubled down on her attire, wearing a black Prada gown complete with metal, techno embellishments (like Tamagotchis!), but she also made some wild hair and makeup decisions.
Points for the radical effort, but minus points for the seemingly REQUIRED, weird, scary frown-face-thing she plastered on all night.
2. 2015 -- China: Through The Looking Glass
There's the Katy we know and love! Give me that short, punk hair. Give me those bright, poppy colors. Give me the spray paint can purse!!!
For 2015, Katy whipped out a Moschino graffiti dress and, duh, pierced nails rocking the designer's name. Just the right amount of crazy.
1. 2013 -- Punk: Chaos to Couture
What's Katy Perry without a good, old-fashioned crown, anyone? For 2013 -- when everyone else was spotted wearing metals, piercings and extreme eyebrows -- Katy took a turn and went full-on Cathedral Queen.
The Dolce & Gabbana dress merged a classic silhouette with extravagant print and metallic material, making this look anything but ordinary and totally unexpected.
Catch Katy and all of tonight's celebs at the Met Gala, red carpet starting at 7pm EST.