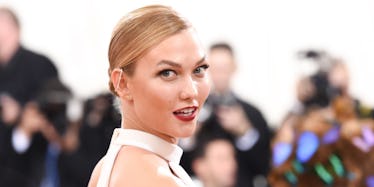 Karlie Kloss Wishes Drake Happy B-Day With Photo Of Rumored GF Taylor Swift
REX/Shutterstock
Guys, it looks like this Drake and Taylor Swift thing is happening whether we like it or not. AND WE DEFINITELY DO NOT LIKE IT.
You've heard the rumors by now. They make you sick to your stomach.
The good news is there's no true validity to the romance. For now, it's just terrible speculation.  So now, either Karlie Kloss is poking the bear or she has some serious insider knowledge.
She wished Drake a belated birthday on Instagram with a cheeky photo of Taylor Swift.
What do you know, Karlie? Tell us all your secrets.
BUT WHY DRAKE!? For starters, there are literally billions of other women in the world. Is it like a rite of passage or something that every male celebrity has to date Taylor before moving on and finding real love?
But more importantly, you're supposed to be with Rihanna!
Obviously, people aren't happy with the rumors.
The whole thing was started by an awful source who told Page Six Taylor and Drake "were intimately flirting, talking closely and laughing," at a party.
The source went on to say,
The only person he spent more time with other than his mom was Taylor.
They've always been close. Drake was pictured holding Taylor's hands and staring lovingly into her eyes at the 2013 VMAs.
NOPE. NOPE. NOPE.
It gets worse.
Apparently, Drake introduced Taylor to a load of his buddies and -- get this -- HIS MOTHER at his 30th birthday bash.
That's heavy. That's relationship status. He didn't even take her out for a quiet, candle-lit dinner at Nobu -- Drake went straight to his mother for approval.
I'mma take you to a happier place now.
Let's go back in time and pretend everything's OK again.
Much better.
There it is.
We're establishing a Draklor helpline for all those affected by the news.