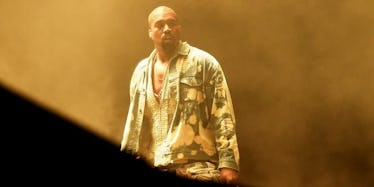 Kanye West Could Be Suffering From Memory Loss After 2016 Hospitalization
REUTERS
Kanye West has been through a lot over the last few months.
It all began when his wife Kim Kardashian was held up at gunpoint during Paris Fashion Week. Kanye had been on stage performing at the Meadows Music and Arts Festival in Queens, New York.
The 39-year-old rapper immediately ended his set to tend to the situation once he learned the tragic news. Weeks later, Kanye was reportedly stressed out and paranoid following the incident.
At the same time, West had been working hard on his Yeezy collaboration with Adidas. He had also been working on new music and performing at sold out shows around the country during his Saint Pablo tour.
The man had a lot on his plate!
It was no surprise to the rest of the world when Kanye began to act erratically. Not only did he randomly express his support for President Trump prior to the election, but he also went on a rant about Beyoncé, Jay Z and Mark Zuckerberg.
Just days after his back-to-back rants on stage, the rapper announced he'd be cutting his tour short and canceled the remaining dates. Devastated fans took to social media to express their disapproval of West's actions.
Others however could sense he was going through something -- even his celebrity buddies John Legend and Lady Gaga.
The same week he canceled his tour, Kanye West was checked into the Resnick Neuropsychiatric Hospital at UCLA citing "temporary psychosis" as his reason for admission.
Now, it turns out Kanye may still be suffering from memory loss following his hospitalization in November.
Malik Yusef, a longtime associate of Kanye's, recently attended the 59th annual Grammy Awards where he spilled a few details about Kanye's life after his week-long stint at the hospital.
Yusef spoke to Popsugar, revealing,
I've been to his house, sat down with him for about six, seven hours, just walking through his health and recovery. His memory is coming back, which is super good. [He's] just healing, spending time with his family. Saint is getting big and is walking, playing with toys, so that invigorates [Kanye].
Who knew Kanye was suffering from memory loss?! Not many of us, apparently! Though, it sounds like Yeezy is well on his way back to good health despite the side effects of his mental breakdown.
Let's just hope he doesn't become too overwhelmed with his superstar life as the year progresses!
Kanye is currently in New York City as he gets ready to unveiled his new fashion collection for Yeezy Season 5 during New York Fashion Week.
Citations: Kanye West Reportedly Suffering From Memory Loss After 2016 Hospitalization (Complex)