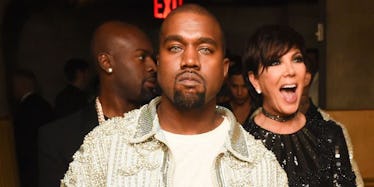 Kris Jenner Reveals The Real Reason Kanye West Isn't At The Grammys
REX/Shutterstock
Kanye West stands to win eight awards at Sunday night's Grammy Awards for his work on 2016's Life of Pablo, but don't expect him to make any acceptance speeches on that stage, mmkay?
I SAID: DO NOT EXPECT HIM TO MAKE ANY SPEECHES.
Get it together. We're all sad Kanye won't show up and start rambling at varying levels of poignancy and coherence.
Kanye speeches are the apex of edutainment, but it's just not in the cards this year and nothing is going to change that.
While co-hosting the E! News pre-show, his mother-in-law, Kris Jenner, told E!,
The truth is he's got a big fashion show in New York because it's New York Fashion Week... And my entire family is back there... Some of the kids are on their way tomorrow.
As a permanent resident of New York, I can confirm Fashion Week is, indeed, upon us. In fact, it kind of seems like Fashion Week is constantly upon us.
In reality, two out of every 52 weeks are NYFWs, but it feels like Kanye was just here, letting his models melt in the sun on Roosevelt Island.
As gripping as it was to watch a fashion show where models dropped like flies from the heat, Kanye flipped and fired his staff following the disastrous September show.
A source told the New York Post,
He had his agent fire all 30 of his staff after the fashion show and got rid of his phone so people can only contact him via email. He had a nervous breakdown after the show and that's what triggered it all.
Another source insisted Kanye hardly had a "nervous breakdown," and was just handling business as usual.
The source told reporters,
Some people got let go, and there was a reorganization of others who he moved back to the music side of things. He's a grownup. He was reflective and disappointed in how things went... He took stock in what people were saying and he was disappointed. But he's more determined than ever to get that stuff right. And as far as throwing away his cellphone? If he did, then it's not the first time. He always does that.
YEAH, GUYS. KANYE WEST IS ALWAYS THROWING AWAY HIS PHONE. WHEN IT COMES TO TELECOMMUNICATION, KANYE WEST DOESN'T GIVE A CARE.
This Fashion Week is the Fashion Week every model makes it down Kanye's runway fully conscious. I just know it.
Citations: Why Won't Kanye West Be at the 2017 Grammys? Kris Jenner Reveals All (PEOPLE)