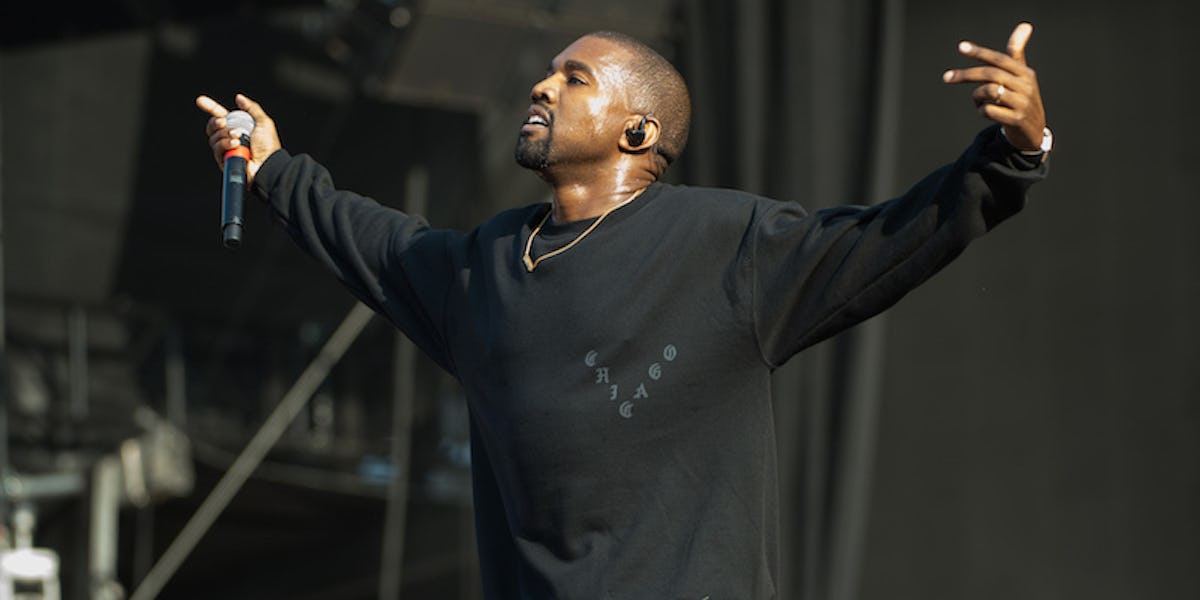 Kanye West Had A 'Massive Breakdown' And Fired Entire Staff After NYFW Show
REX/Shutterstock
I can't tell if Kanye West firing his entire staff is a super cool power move, an attempt to treat his models better or just a dumb occupational hazard that comes with working for Yeezus.
Kanye West's foray into fashion has been one of the more interesting career moves in pop culture over the past few years. And it's not because this kind of move doesn't normally happen; it happens all the time. At this point, if you have any modicum of success in music, it's almost assumed you'll make the jump to fashion
It's been weird because he's just been SOOOOO "Kanye" about it.
His shoes look like awkward moon boots that have been banned by the NFL and his big clothing reveals, the now infamous series of "Yeezy Season" shows, all act as terrifying performance art more than anything else.
Kanye may have outdone himself in the moments after Yeezy Season 4, though. A source close to 'Ye says he had a meltdown that led to him firing his entire staff.
The source, who spoke the New York Post, told reporters,
He had his agent fire all 30 of his staff after the fashion show and got rid of his phone so people can only contact him via email. He had a nervous breakdown after the show and that's what triggered it all.
The show, which took place during New York Fashion Week, came under fire after several models suffered from heat-related light-headedness and fainted during the show.
The Yeezy Season 4 show did not score well with critics from a technical standpoint either. It started incredibly late and featured models who were barely able to make it through the show.
One model, featured above, had her shoe break while she was walking on the white carpet platform.
But was all of this enough to send Kanye into a firing fit, though?
Another unnamed source close to Mr. West doesn't think so, telling reporters,
He didn't have a 'nervous breakdown.' Some people got let go, and there was a reorganization of others who he moved back to the music side of things. He's a grownup. He was reflective and disappointed in how things went ... He took stock in what people were saying and he was disappointed. But he's more determined than ever to get that stuff right. And as far as throwing away his cellphone? If he did, then it's not the first time. He always does that.
Was Kanye in an anger spiral when he let his staff go or was this just a case of 'Ye doubling down on the music?
We'll probably never know. What we do know is Yeezy boots look weird as hell but I want a pair soooooo effing badly.
Citations: Kanye West had nervous breakdown and FIRED 30 STAFFERS following NY Fashion Week fiasco that left models fainting and critics snarking (Daily Mail)