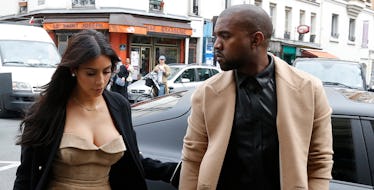 Kanye West Is Putting 'Family First' After Kim Kardashian Robbery
REUTERS
It's no secret Kim Kardashian has been having a tough time with life following the robbery in Paris earlier this month.
But does anyone know how Kanye West has been doing after all of this?
Aside from the fact that he's likely still pissed off about the entire situation, you have to wonder -- how is Kanye changing the way he operates to ensure the safety of his family?
He's thinking differently.
According to People, a source close to the 39-year-old rapper and fashion designer says Kanye's doing everything in his power to make sure his family doesn't feel intimidated or scared after masked men robbed Kim in her hotel room of millions of dollars worth of jewelry.
The source revealed,
He's putting the needs of his family first, which of course takes precedence over everything else in his life. He is carefully considering how to address and shore up any issues in both his family's safety and security, and where appropriate, his businesses.
You can't blame Kanye for taking the proper precaution following what must have been such a life-threatening, traumatic experience for 36-year-old Kim Kardashian.
Since the robbery, Kim's been lying low. She first flew back to New York City with North and Saint West. Then, from New York, Kim jumped on a private plane with her two children and mom Kris Jenner.
They returned to Los Angeles on October 6. Kim's been spotted out only a handful of times sporting a dark disguise consisting of a large hoodie, black pants and black shoes.
In addition to keeping an extremely low profile, Kim's also been pretty quiet on social media and even stopped updating her official website up until a couple of days ago.
Not to worry, Kardashian fans and decent human beings everywhere, because Kanye and Kim are determined to bounce back from the Paris robbery.
The same source added,
Kanye is both loyal and optimistic. Kim and Kanye are determined to turn any setbacks or tragedies into triumphs. It's in both of their natures and embedded in their personal stories.
While they might be set on on a major comeback at some point, Kim may be taking a whole new approach to this whole fame thing when she reemerges. The source continued,
[West] thinks a lot about their public face, their fame, and what they can be to people, how they can reach out to their fans and influence people in a positive way. So, I wouldn't be surprised if each of them … applied different strategies moving forward about how they roll out their public lives.
Time will tell, friends... Oh, and happy birthday, Kim!
Citations: How Kanye Is Helping Kim After Traumatic Robbery: 'He's Putting the Needs of His Family First' (People)