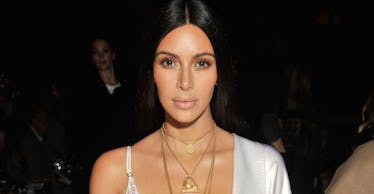 Kim Kardashian Finally Returned To Los Angeles With North And Saint West
REX/Shutterstock
Kim Kardashian has returned to Los Angeles from New York City after visiting Paris, where she was allegedly robbed of about $10 million worth of jewelry at gunpoint.
When she stepped out in New York City earlier in the day, she was unrecognizable.
The 35-year-old star was seen exiting her private jet at Van Nuys airport with North and Saint West while wearing the same incognito getup. Kim's mom, Kris Jenner, was also with them.
As the family exited the aircraft, Kim held 10-month-old Saint while Kris held 3-year-old North.
Since the traumatic robbery, in which Kim was reportedly dragged into a bathroom and tied up, Kim and the rest of the family have been pretty quiet on social media these days.
Caitlyn Jenner spoke out and showed his support for the 35-year-old star, but Kim herself? She's been pretty quiet -- and rightfully so. I mean, I'm not too sure about you, but if I was robbed at gunpoint, I'd be pretty stealthy, too.
An inside source spoke to People regarding Kim's state of mind, saying,
Kim is happy to return home with the kids. Kanye is coming back to LA and then resuming his tour tomorrow while his family stays in LA.
Since the robbery in Paris, the family has beefed up security. In addition, Kim Kardashian will apparently be laying low for a while following the traumatic incident.
Another source spoke to US Weekly, revealing,
She has canceled everything for the next several weeks and will not be working. She feels safer in LA and wants to be home with her family.
You know things are pretty serious when filming for "Keeping Up With the Kardashians" has been put on hold until further notice. A rep for E! spoke to Just Jared, explaining,
Kim's well-being is our core focus right now. No decision has been made as to when production will resume.
Hey, you can't fault Kim for putting her safety first after being robbed at gunpoint while wearing nothing but a robe as her family members and friends were nowhere in sight.
Kim, welcome back to Los Angeles! There's no place like home.
Citations: 'She feels safer in LA': Kim Kardashian finally lands back in California with North, Saint and mother Kris Jenner after Paris robbery ordeal (DailyMail)