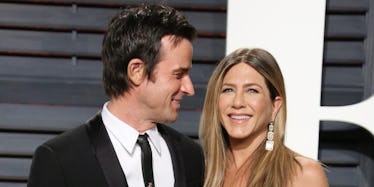 Justin Theroux Gushes About Jennifer Aniston And Their 'Special' Private Wedding
REX/Shutterstock
Justin Theroux is just teasing us at this point by talking about how great his and Jennifer Aniston's secret wedding was.
It's like: We get it! None of us were invited, and we barely got to see any pictures! And it was awesome! And we missed it! WE GET IT!
In a recent interview with Entertainment Tonight, the 45-year-old actor and director reflected on just how amazing his private, exclusive wedding to Jennifer Aniston in 2015 was.
He said,
It's so much more special when it's just your closest friends and family and it's lovely. [Jennifer and I] wanted it to be a peaceful environment, you don't want it to be hectic.
Cool, well, that sounds like a super fun, relaxing time for you guys! Alone! Without anybody else! Great!
Justin also paid compliments to Dave Franco and Alison Brie, who also recently went the secret marriage route.
Justin said of the younger Franco brother's marriage,
I just found out about that, I didn't know that that had happened. Congrats to him, good for him for making it private.
If Justin had his way in the world, no one would know about anyone's weddings ever again. Probably.
Justin and Jennifer tied the knot (secretly) almost two years ago now, in the summer of 2o15. The ceremony, which, again, was very low-key and secretive, took place in the couple's home in LA.
So far, it seems like the marriage has been going pretty well, based on the fact that Justin continues to do incredibly sweet things for Jen all the time.
He's even totally fine with be referred to as "Mr. Jennifer Aniston."
He once told the press that the nickname doesn't bother him because, as he said,  "It's just one of those things that's a shorthand for describing who I am."
Ugh, OK, fine, Justin, you can keep bragging about your exclusive wedding, I guess. But only because you're such a good husband!
Citations: Justin Theroux Dishes on the Benefits of His Secret Wedding to Jennifer Aniston (Entertainment Tonight)