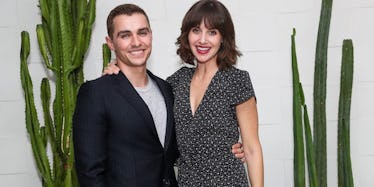 Sorry, Girls: Dave Franco Secretly Got Married And Is Officially Off The Market
REX/Shutterstock
A moment of silence for Dave Franco, a man who is romantically dead to us all.
After meeting at a Mardi Gras parade, James Franco's younger more tolerable brother has officially tied the knot with actress Alison Brie, according to reps from both parties.
The couple met in New Orleans back in 2011 and dated for more than three years before announcing their engagement in 2015.
According to People, Brie's engagement ring is a "one-of-a-kind" rose gold sparkler set with a rose-cut diamond and a diamond pave made by jewelry designer Irene Neuwirth.
Honestly, we all sort of knew this was coming for a while. For starters, most people tend to get engaged as a precursor to marriage (weird, I know).
More telling, though, was how James sort of ruined the covert operation that was getting these nuptials to happen while making an appearance on "The Late Show" last year.
Here is James talking with Stephen Colbert about how he's officially the sad lonely one in his family.
During the interview, Franco told Colbert,
My brothers are both in very serious relationships. Davie, the youngest, is engaged and is going to get married early next year.
James isn't the only one in this equation who has some phobia with settling down. As it turns out, getting engaged and then married is something that Brie never really envisioned for herself.
She explained to Yahoo! last February,
I'm not very bridal, instinctually. Marriage never really interested me, I guess because I was very focused on my work. I wasn't sure if I really saw the point to it. I bought a dress on Net-a-Porter, and I'm like, 'Maybe I'll wear that.'
That was until she met Dave.
After that, it all changed for her, as she explained,
I just met that person that I was like, 'Well, I'm really in love with you and would like to grow old with you.' I actually think it's much more romantic when two people are like, 'Oh, I could go either way on marriage, but I want to marry you.'
MAZAL TOV!!
Citations: Alison Brie & Dave Franco Got Married (Refinery29)