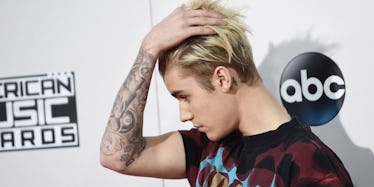 15 Times Justin Bieber Was Super Hot, Though Our Mamas Definitely Wouldn't Like Him
REX/Shutterstock
Listen up, plebeians. It's Justin Bieber's birthday today, and this is not a drill.
The Biebs is 23 years old today, and it is hard to believe that just nine years ago, he came singing his way into our hearts via YouTube and also, like, Usher.
Love to hate him or hate to love him, we can all agree he is objectively a beautiful, little, baby, man child who elicits conflicted feelings of attraction and desire in all of us.
And I gotta give it to him — he's got great bone structure.
As my Justin Bieber birthday gift to all of you, I rounded up some of my favorite, smokin' photos of the Biebs for you to either proudly or secretly drool over.
The animal and young child collection
Let's start off low on the fire scale. (You know, like how restaurants rate the heat of hot wing sauces?)
Any man posing with wildlife or young children is substantially more attractive than a man without wildlife or young children.
I mean... I see your baby white tiger, and I raise you two arm tattoos.
Yup. That sure is Justin looking like a white guardian angel, holding a sweet, white pup, in an all-white room, basically being the epitome of innocence and beauty.
Oh, boy. OK. Here's one featuring a young child AND a puppy.
The bad boy collection
THINGS ARE HEATING UP. That motorcycle? Damn, Biebs. You bad.
And that backwards hat, those cross earrings and all. Those. Forearm tats? BAD.
WOOoooEeee! That face? That embrace? That black-and-white moment in time? SO BAD.
The model collection
Ding dong. Oh, who could that be? It's just Justin looking like a regular, ol' Danny Zuko. Let him in!
Slightly androgynous Justin? I'll take two, please, with a side of buttoned-up collar!
I ogle in #mycalvins. I stare in #mycalvins. I salivate in #mycalvins. I objectify Justin in #mycalvins.
The angsty bed collection
What is it, Justin? Speak to me, boy!
USE YOUR WORDS, Justin. I'm here for you!
You're breaking my heart, Biebs! So lonely. So vulnerable. So slightly grazing your own crotch.
The abs collection
I can forgive whatever is on your penis area because your abs are present and wonderful.
YUP! COUNTED! ALL THE ABS ARE THERE!
And this...
Ahh, Biebs. Happy birthday you sweet, lost and confused boy.