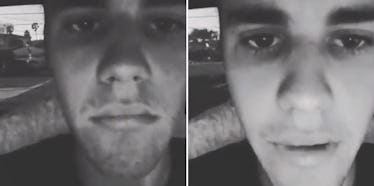 Justin Bieber Posts Sad Video About Being Single, Nobody Feels Bad For Him
Snapchat
Justin Bieber was single and alone this Valentine's Day, but it looks like nobody gave a shit.
Poor, poor, JB.
The Purpose singer posted a rather sad and borderline-concerning Snapchat about how he spent the holiday on Tuesday, February 14.
He added a black-and-white filter for ~dramatic effect~ and told his viewers,
All I ever wanted was a valentine, and now I don't even have a valentine.
You can watch the painful moment in the clip below.
Ouch, right? I feel weird.
Even though Justin Bieber confessed his intimate feelings with the entire universe, it looks like no one really cared... except this ONE person on Twitter.
Fine, they care a fucking lot. But like, it's too much.
While Justin Bieber spent Valentine's Day whacking off on the couch and stuffing his face with hot Cheetos (I'm just assuming), his ex Selena Gomez enjoyed a romantic evening making out with The Weeknd on a luxury yacht.
They're literally kissing on a $85,000 boat in Marina Del Rey. This is some "Fifty Shades Of Grey" shit.
Like honestly, could Justin Bieber's Valentine's Day be any worse??????
He probably saw the pictures and was just like, "Screw this. Who wants to be my valentine?! Anyone? Hello?"
I mean, just two days ago, JB trolled the Weeknd hard on social media.
He posted a live Instagram story and held a Q and A with his fans.
When asked what his favorite song at the moment was, JB told everyone it was "Starboy" by The Weeknd.
LMAO, I CAN'T MAKE THIS STUFF UP. WATCH THIS DAMN THING.
lmao @justinbieber @AlfredoFlores [ fave song at the moment?: Justin said "Starboy by The Weeknd"] pic.twitter.com/xAYJTKk4L4 — Sayuri.B (@rampon009) February 13, 2017
That's petty AF, but hella funny.
Sorry, Selena Gomez, I'm not quite sure what you expected from your ex now that you're dating another musical artist.
JB wants you back, girlfriend. Just face it, Jelena is FOREVER.
Citations: Justin Bieber's Sad Valentine's Day Plans (ET Online)