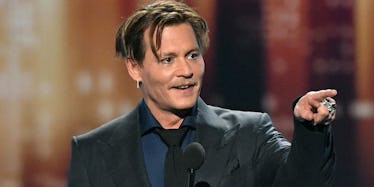 Johnny Depp Wants To Connect 5 Houses With Underground Tunnels Like A Hamster
REX/Shutterstock
Johnny Depp is currently in major debt, so naturally he's gearing up to buy a six-home compound.
And not only does he want six neighboring houses in Hollywood Hills, he also wants to connect them all together with underground tunnels, like a goddamn hamster or something.
This news comes from a report from Us Weekly, who spoke with several sources close to the 53-year-old actor about his homebuilding plans.
According to the insiders, Depp already owns five houses in the Hollywood Hills cul-de-sac, but his dreams of a tunnel-infested private compound are being thwarted by the owner of the sixth house.
One insider said,
[Johnny Depp has] been buying them up over the years. He wanted to build a gate to stop the tour buses from coming up there.
But apparently the owner of the sixth home just refuses to sell.
The insider said,
Johnny has offered him everything.
OK, honestly, at this point I'm not surprised Johnny Depp wants to spend thousands of dollars on burrowing into the ground like a rodent.
The man is literally knee-deep in a lawsuit about how broke he is due to extravagant spending right now.
After suing his former business managers for losing all his money, his business team fired back with a lawsuit of their own.
The Management Group said Depp's debt was a result of his "ultra-extravagant lifestyle that often knowingly cost Depp in excess of $2 million per month to maintain, which he simply could not afford."
They then proceeded to list all the things Depp regularly spends money on, including 14 homes, 45 cars, a luxury yacht and $30,000 a month on wine alone.
Oh, and let's not forget about the fact he's an accused domestic abuser and he refused to pay the settlement he owed Amber Heard until the courts literally forced him to!
You know what? On second thought, go ahead and build your underground tunnels, Johnny Depp.
Just promise to stay underground for the next 50 years so I never have to sit through another "Pirates of the Caribbean" again.
Citations: Johnny Depp Wants to Build Underground Tunnels to Connect His Houses (Us Weekly)