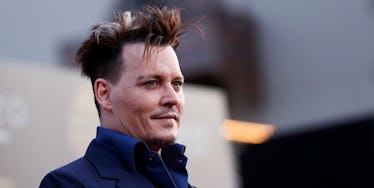 Johnny Depp's In Major Debt, Spends $2M A Month On 'Extravagant Lifestyle'
REUTERS
Johnny Depp is in serious debt, and he's trying to blame his business team for it.
But according to them, this debt is fully the actor's fault due to extreme irresponsible spending on things like 14 homes, 45 cars, a luxury yacht and more.
Earlier this month, Depp sued his former business managers, The Management Group, for $25 million, claiming they lost him "tens of millions of dollars."
Now TMG is firing back with a countersuit, saying the 53-year-old actor was warned multiple times about his "ultra-extravagant lifestyle that often knowingly cost Depp in excess of $2 million per month to maintain, which he simply could not afford."
In the legal document obtained by People, TMG proceeded to list all the things Depp spent his money on in recent months.
Here are some highlights:
$75 million on 14 homes, including a freakin' CASTLE in France, islands in the Bahamas, several penthouses in LA and a farm in Kentucky
$18 million on a luxury yacht
Millions on 45 cars and vehicles
$30,000 a month on wine -- $30,000 A MONTH ON WINE!
Tens of millions on expensive art and jewelry
Millions on memorabilia and collectibles, enough to fill "12 storage facilities"
$200,000 a month on private planes
Um. Wow. Never come after the people who know where you put your money, or they will expose the fuck out of you.
I just... $30,000 on WINE in a MONTH? On WINE? Is Johnny Depp drinking 20 bottles a day?
At Trader Joe's, that kind of money could get you 5,000 bottles of wine. Just saying.
The TMG suit went on to say they "repeatedly warned Depp about his precarious financial situation and often begged Depp to curb his spending and sell assets."
TMG concluded,
Johnny Depp alone was solely responsible for his extravagant spending. Over 17 years, The Management Group (TMG) did everything possible to protect the actor from himself.
PHEW. TMG has been holding this shit in for 17 YEARS, but now Depp has pushed them too far.
Also, perhaps this explains why Depp was dragging his feet on paying the settlement he agreed to pay his ex-wife Amber Heard to get rid of that domestic abuse charge.
What a nice, rational, put-together guy!
Citations: Johnny Depp In Debt (People)