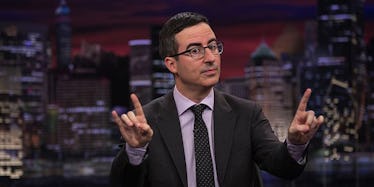 John Oliver Says This One Thing Is Too Much For Him To Take, And It's Not Trump
HBO
You ever do that thing where you imagine meeting a favorite celebrity of yours, and learn they are as awesome in real life as they seem on television?
Great news, everybody: John Oliver IS as awesome in real life as he seems on television, and thank god.
Who wants to find out a seemingly lovely, charismatic, approachable, hilarious British guy is a jerk? NOT ME, AMERICA.
This past Tuesday, Oliver teamed up with some of comedy's greats (including Tracy Morgan, Leslie Jones and Chris Rock, just to name a few) to perform and attend the charity event Garden of Laughs at Madison Square Garden in NYC.
The charity itself caters to children facing obstacles, and is supported by a wide variety of celebrities across multiple industries.
We spoke with John about some of the challenges he faces as a political comedian during such a volatile time in American history, and wouldn't you know it, it sounds like it's pretty damn difficult.
When asked if having someone like Donald Trump as president is really a comedian's dream, Oliver told Elite Daily, "No. I would say it's kind of the opposite, it's kind of a nightmare."
He went on to explain how President Trump provides so much low hanging, jokey fruit that it can be tricky to find the intelligent, non-obvious angle for his political comedy talk-show, "Last Week Tonight with John Oliver."
Trying to find substance in some of Trump's ridiculousness is no small task, and it could be easy for comedians to end up with similar versions of the same, obvious joke.
He said,
There is a lot of bad comedy that happens at times like this because he [Trump] says so many things that are already laughable, sometimes the challenge is to try to find a way to explain to people why something that seems subjectively stupid is actually worth listening to. So it's kind of finding the meaning beneath words that make no sense.
The misconception that us regular plebeians tend to make is that the more outrageous Donald Trump acts, the easier it is to make fun of him. Oliver continued,
People, in a really well meaning way, say, 'Oh yeah, your whole show is written for you,' and that would be true, IF we wanted our show to be terrible. But this is harder. It's less fun... it's less fun going through things that are already laughable but are inherently poisonous.
Well, when you say it like that.
Still, every week, Oliver and his team find a way to dig through the bullshit and bring us amazing, funny and smart AF comedy, tackling the epic disaster that is our Commander in Chief.
So, if Trump can't cause John Oliver to come undone, what DOES, you might ask.
Well, "The Great British Breaking Show," obviously.
The deliciously soothing, impeccably charming UK competition baking show has warmed the hearts and calmed the minds of Americans everywhere since it's debut on Netflix, and John Oliver can't handle it.
He says, "It's too tense for me. It's just watching English people dying inside."
Sure, if you call high-definition footage of people frosting cakes tense.
But, John says he has some special British insider insight,
It's just horrendous, the emotional roller coaster, because I know as a British person, that if something goes wrong with their cake, that it's going to really hurt them and for reasons that have nothing to do with the cake.
WELL, GREAT. THIS IS WHY WE CAN'T HAVE NICE THINGS. Except for John Oliver. Who is, like, the nicest.
The rest of the evening at Garden of Laughs included additional awesome commentary from other fan favorites like Leslie Jones from "SNL" and award-winning actress Susan Sarandon.
Both women weighed in on what it's like to be female role models in entertainment today, with Leslie telling us, "That's so weird to me be called a role model. Lord have mercy." She continued, "When I was living my life, I NEVER thought role model would be something I'd be called ever because, you know, you just live your life."
Susan Sarandon spoke with us about her role in the new FX series "Feud: Bette and Joan," co-starring Jessica Lange, where she portrays the legend Bette Davis saying, "Sometimes, to tell a woman's story, it's nice to have a woman tell it."
I mean, checks out to me.
Once-in-a-lifetime experiences were auctioned off throughout the Garden of Laughs event, and overall, the star-studded red carpet was able to pack Madison Square Garden to help bring support and money to struggling children.