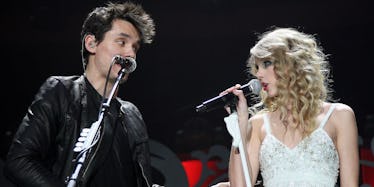 John Mayer Dissed Taylor Swift On Her Birthday And Proved Exes Are The Worst
REX/ Shutterstock
I'm patiently waiting for the moment December 13 becomes a national holiday in honor of Taylor Swift.
Most fans and celebrities spent the special date either wishing the songstress a happy birthday or awaiting her highly anticipated video experience while shamelessly blasting her music, so why not make it official?
Oh, wait, is that just me? Awkward.
Anyway, among the birthday wishes and the nostalgic Swift sing-alongs, John Mayer made it crystal clear that he hates December 13.
In fact, he called it the "lamest day of the year, conceptually."
According to Just Jared via MailOnline, John Mayer tweeted about how much he despises December 13 last night at 10:45 pm. However, he allegedly deleted the salty post minutes after it was posted.
The "Love on the Weekend" singer obviously still has some "bad blood" toward Swift, and quickly proved that no matter how famous you are, exes SUCK.
It's been reported Mayer and Swift dated from November 2009 to February 2010, which gave Taylor enough material to write a hit song inspired by the songwriter himself.
Remember "Dear John"? You know, the song that publicized every single detail of Swift's relationship with Mayer so the world could know all the details of their romantic life?
I know it's been a while, so I'll refresh your memory.
Maybe I'm biased because I played this song on repeat when it came out and still listen to it a lot, but I guess I can see why Mayer has some beef with the singer.
Regardless, bashing her birthday on social media is downright messed up.
Let her celebrate, man!
At least we can expect Taylor Swift's girl friends to have her back on social media whenever December 13 comes rolling around.
They definitely wouldn't consider Taylor's birthday the "lamest day of the year."
But, hey, exes will be exes.
Citations: Just Jared