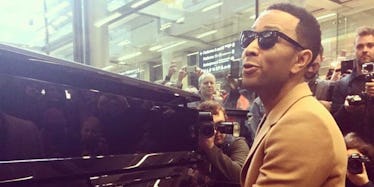 John Legend Surprises Commuters With Epic Performance At London Train Station
Instagram
These days, John Legend and his wife Chrissy Teigen are constantly making headlines for their outspokenness on social media as well as their lavish getaway trips overseas.
Oh, and baby Luna's adorable little face also garners a ton of attention on a daily basis! But let's not forgot how talented they both are.
After all, their talents are the only reason we know their names in the first place.
John Legend reminded the world of just how musically gifted he is after surprising commuters with an epic performance while traveling through England this week.
The Grammy award-winning singer unexpectedly took over a musician's piano at the St. Pancras International train station in London. Why? Because he simply felt like putting on a mini-concert set for the city.
Oh, and March 29 marks worldwide Piano Day. I'm sure that had something to do with it, too!
As shocked travelers surrounded the piano, the 38-year-old showcased his talent as he performed "Ordinary People," "All of Me" and his latest single titled "Surefire."
It sucks that you couldn't be there, right? I know, I know... Luckily, there's a video!
Watch the moment John Legend surprised commuters after taking over a piano inside St. Pancras International train station.
And that, ladies and gentlemen, is why John Legend is, well, JOHN LEGEND...
The man can simply pop up at any moment and put on a legendary (get it?) show you'll never forget.
Chrissy and Luna should be very, very proud!
Speaking of Chrissy, the 31-year-old supermodel made headlines this week after Fox News tagged her in a tweet about leggings. She responded by "respectfully" telling Fox News exactly how much she hates them.
That's not quite playing a surprise show inside of a crowded train station, but if Chrissy isn't putting her cooking and modeling skills on display, she's definitely showcasing her shit-talking talents!
Hey, it's a lot harder than you think to be constantly that hilarious...
Citations: Watch John Legend Play A Spontaneous Set In London's International Train Station! (PerezHilton)